Wednesday, May 27th, 2015
Cover Reveal for EXPOSING THE HEIRESS!!
For our Wednesday Worth Hunk today, I'm showing you all the cover for EXPOSING THE HEIRESS, Book 3 in Once A Marine Series by Jennifer Apodaca!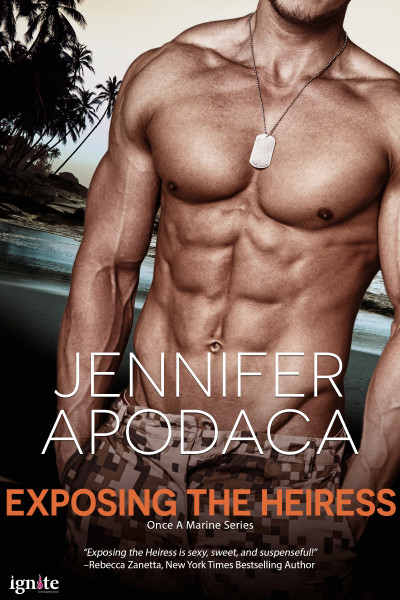 And here's the Back Cover Blurb:
This Marine will protect her at all costs…

When wealthy heiress Alyssa Brooks finds out her stepfather has been paying her fiancé to marry her, she's humiliated and betrayed. She quickly breaks the engagement, only to be blackmailed by her now ex-fiancé, who threatens both Alyssa and the son she gave up for adoption. With nowhere to go, she turns to the one man she can trust.

Former Marine sniper Hunter Reece's lethal skills could save Alyssa's life. But his little sister's best friend has turned into a woman, who is an irresistible mix of secrets and sexiness. And while Hunter can trust himself to protect her, he can't trust himself to keep his attraction hidden…or even pretend to be the man that Alyssa remembers.

Because the only way to keep the lovely heiress safe is to become the one thing he knows she could never love…a killer.
The release date is August 4, 2015 and if you use Goodreads, you can link here to find and mark it to be read.
So what do you think of the cover? Is the cover model worthy? And FYI, I've had this cover for a month, and have been dying to share it!