Friday, October 2nd, 2015
Welcome Niki Daninger! Guest Post Interview
We have a new feature today – Guest Blog/Interviews. And here to launch it is Niki Daninger (aka Ban) with her very first release! Niki wrote a short story that is part of an anthology collection titled: BEWITCHING DESIRES: A SAVANNAH COVEN ANTHOLOGY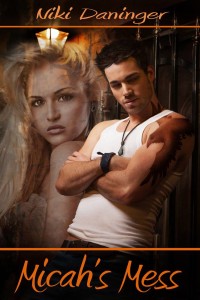 Niki has graciously agreed to let me interview her hero, Micah. Okay maybe I begged, because once I found out he's a witch, I just had to talk to him. I knew you'd all want to hear from him too. So grab yourself a cup of coffee or tea (or wine or martini, we don't judge here) and settle in for a fun interview with the hero of MICAH'S MESS by Niki Daninger.
Jen: Hi there Micah. Thank you for stopping by today.  I know you're busy, so I'll jump right in with the first question. From the blurb of Niki's book in the anthology, MICAH'S MESS, it looks like you're a witch. That's cool, but all of us here on the blog need to know–are you a hot witch? Like the kind of hot that could entice us to get on the back of your bike and ride off into all kinds of sexy trouble?
Micah: No one would ever mistake me for some pre-teen wizard, waving a wand around, if that's what you're asking. I've turned more than a few heads, and I've seen my share of fights because of it.
Jen: What's the deal with you wanting to take over the Savannah Coven? Do you really feel you're the best leader for the coven or do you have ulterior motives that make you a bad boy kind of hero?
Micah: Would I the best leader? Probably not but I'd be better than my sister. No one wants this more than I do. No one has worked as hard as I have— Hell, I've memorized every single one of my grandmother's potions. Now SHE was a leader. Someone has to honor her memory. That someone should be me.
Jen:  Tell us about this angel who gets in your way. Is she hot? Are you thinking about her when you should be thinking about your goal?
Micah: Isa is beautiful in the way that makes breathing hard so yeah, she's a distraction. And that's why I didn't want to take her with me.
Jen:  What is your favorite part of Micah's Mess?
Micah: My favorite part… good question. I guess it would be learning I can be more than I have been.
Jen:  Since you were "born" in Niki's mind, maybe you could leave us with one thing about Niki that we probably don't know about her.
Micah: Well, she just put this on her bio page but— Niki never wanted to be an author. She hated writing growing up! She loved reading but she'd rather take 100 tests than write a paper, even a creative one. Me and the others 'living' in her mind took care of that

Jen: And last, is there anything else you'd like to share with us?
Micah: Yeah, don't let your past define you. You can be the person you've always wanted to be. Life starts anew every morning. Don't give up or in. Ever.
Great advice! Thank you Micah for coming by today! It's been a pleasure to have you here. But one word of caution. All the witches who hang out here REALLY like hunky guys. Beware of innocent looking women offering you cookies…more than one hunk has fallen for that trick and ended up under a witch's love spell until she decided to release him.
If you'd like to get to know Micah, pick up a copy of BEWITCHING DESIRES: A SAVANNAH COVEN ANTHOLOGY and check out Niki's story in there!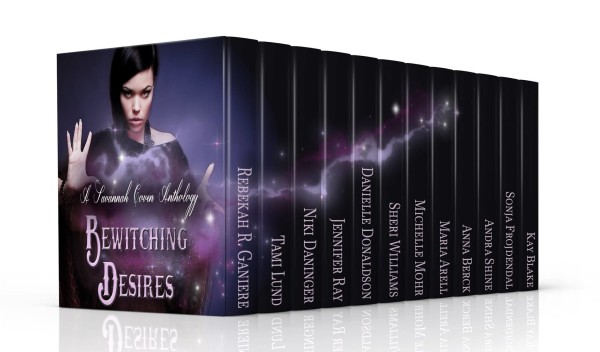 Author Bio: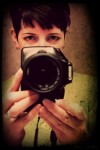 Niki grew up reading fantasy books, day-dreaming about elves, magic, magnificent beasts and worlds that only she could visit. Those imaginings were sketched onto every piece of paper she could find. After High School she went to Manhattan, majored in art, and planned to enter the field of animation but that was not to be. After college, she moved to Pennsylvania, found her husband, and had two daughters. But those stories kept coming back to her and she took up pen and paper for a different purpose. To write. Inspired by her author friends, she joined NaNoWriMo. That's when her dreams took a new turn. They became insistent. The ideas and characters that had slowly taken up residence in her mind demanded their stories be told. Micah's Mess is Niki's first short story, but she hopes to finish her current WIP soon, so she can share more of her dreams with those who have supported and encouraged her over the years. Find Niki on  Facebook  or her Blog