Monday, January 18th, 2016
Creating A Business Plan, Part One of Three
I'm implementing a new feature on my blog: Business Mondays. Today I'm going to do Part One of Creating A Business Plan. There will be three parts in all:
Part 1 Intro and Reviewing 2015 (Post Date 1/18/16)
Part 2  Goals for 2016 (Post Date 1/25/16)
Part 3 How I developed my project maps (Post Date 2/1/16)
A little background: This is my first foray at creating a serious business plan and I wanted to share my experience with anyone interested. I began with the book: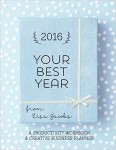 I liked the workbook format that helped me focus on what I've accomplished in the previous year, articulate my goals for this year and think ahead. Doing project worksheets gave me real sense of how I could develop a project plan that works for me. I didn't care for some of the touchy-feely aspects of the book and ignored those. This book served as my "base" then I developed out my plan.
My business plan is a work in progress and will continue to be all year long. Nothing is in cement, but it lays out my goals and breaks them down into tasks in the project maps. This is what works for me. You may want an entirely different kind of roadmap for your year.
Introduction: Why do you need a business plan? If you are a writer who is publishing, you are running a business. A plan will help you:
–Visualize all your goals
–Break them down into manageable tasks
–Create a calendar timeline
–Stay on task
–Evaluate your successes and setbacks
–Reorganize your goals, calendar and tasks as needed.
What a business plan won't do? It won't sit your butt in the chair and do with work for you. But a business plan can help you stay motivated to hit your deadlines and cross them off your list.
Before I go on, while I wrote up my business plan on the computer, I like a printed copy and a good calendar to list daily tasks. I bought a daily planner type calendar: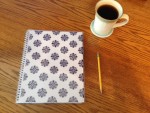 With both month at a glance and daily pages:
Then attached my business plan to the inside of the back cover of my daily planner: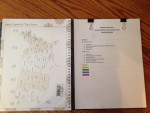 Anytime I change my business plan, I simply re-print and attach it. This is also easy for me to take anywhere I want. However there are many ways, including keeping it all electronic and accessible on your phone or handheld device.
This is what the cover page of my business plan looks like:
Business Plan 2016

Jennifer Apodaca AKA Jennifer Lyon

Author/Publisher

 

 

Content:

Review of 2014

Financial
Goals, Accomplished, Put On Hold & Revised
Successes
Setbacks

Goals 2015

Financial
Writing Books/Novellas
Social Media
Marketing Plan for Releases
Growing Skillset
Other Streams of Revenue

Projects

Project #1

Project #2

Project #3

Project #4
Now for the Review of 2015. This is important to know where we succeeded, and where we need to improve.  I took out a few things, like my income because I don't share that information. But in your personal version, it's a good idea to track the ups and downs of your income. It's one of the ways we can decide if we are meeting goals, or we need to re-evaluate.
Review of 2015

Financial:

Income 2014: Removed

Income 2015: Removed

Drop in income was projected. Therefore, met projection but did not exceed them.
E-books made up 83.5% of income.
Foreign sales 12.7%
Audio 2.5% (
Print 1.3 % (Just started in print, good potential for increasing sales)

Goals

Accomplished Goals:

1) Revise Exposing the Heiress at publisher request and submit. Published in August

2) Write Caged Magic. Publish in July.

Put on Hold:

3) Write & Publish Savaged Vows

4) Plot Primal Magic

5) Plot Savaged book 2

Revised Goals:

1) Got rights back to Wing Slayer Hunter Books from Random House. Re-released in both electronic & Print:

Blood Magic
Soul Magic
Night Magic
Sinful Magic

2) Re-edited and put in Print:

Successes

1) 2 new books released, 4 re-releases and 1 re-edited.

2) Receiving a RITA Nomination

3) Hitting USA Today List

4) Hiring a Virtual Assistant

5) Marketing Plan for Wing Slayer Hunters and getting first Bookbub ad.

6) Blood Magic hit #2 overall on Amazon

7) Creating spreadsheets to track each book, very helpful

8 ) Being asked to be part of 1001 Dark Nights Discover Authors

9) Met income projections.

Setbacks

1) Exposing the Heiress being moved out of Indulgence category.

Should have made stronger case to keep it there

2) Getting rights back to Wing Slayer Hunter books was slightly unexpected and threw a major wrench in my schedule.

Note: this is also a success as the re-launch went very well
But a major decision mid-year caused big reshuffling of schedule and goals.
Big time & financial investment.
No clear way to measure it against what would have happened if I released two Savaged books.

3)  Not launching news series with Savaged Vows.