Monday, June 20th, 2016
Weekend Roundup
I hope everyone had a Happy Father's day! Ours was quiet but nice. Two kids couldn't get out here, but called or texted and Youngest Son (BLB) came out last night.
My happy news is I sent Ethan and Ana's novella off to my editor! Then I took a break to do some shopping, getting some clothes for conference this summer in San Diego. Wizard is going with me this year, and I'm excited about that. He's a die-hard Giants (Baseball) fan and found out they are playing at the stadium right by the hotel. Great timing! He's so happy.
Now I'm re-reading the manuscript for Savaged Dreams to tackle revisions and jumping right back on the Worry Train

I must like this agony, LOL! I love the story as much as ever, but the manuscript needs some work. Too bad editorial revisions don't come step-by-step instructions, LOL! But it turns out it's my editor's job to tell me what needs work and my job to figure out how to fix it

My bummer was yesterday morning. Wizard and I were getting ready to go out to breakfast for Father's Day, when Wizard noticed something on my purse.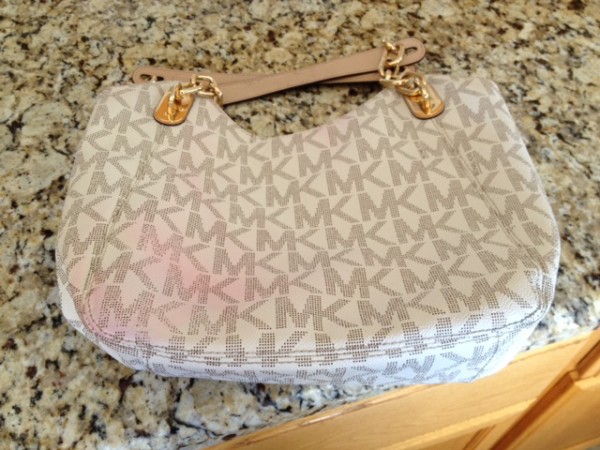 See the pink on the bottom left corner? That is from a pink shirt I was wearing that evidently bled on the purse and we can't get it off. It's crazy! I've never had that happen. I've had this Michael Korr's purse for almost two years. I bought it with birthday gift cards from the kids after I hit some milestone in sales. Anyway, my expensive (to me) purse was taken out by an $8.00 Target tank top, LOLOL!! I believe I will survive this calamity, however, because I'm tough like that. In all seriousness, it's just a purse, but I thought it was weird enough share.
Oh and don't worry, the pink tank top is perfectly fine

So how was your weekend?