Monday, December 12th, 2016
Weekend Roundup
I'm less Grinchy! This weekend, Wizard and I busted our butts and got 95% of the Christmas shopping done. Whew! I have to say this is where Wizard and I shine in teamwork. All of our marriage has been like this–we divide and conquer and get it done. Which is pretty funny because both of us are also control freaks

But I trust or accept his decisions and visa versa. And since I've been sick and Wizard's dealing with his cranky back, we managed pretty well.
I'll think about all the wrapping later.
Wait, I was supposed to be writing? Bwahaha!! Okay I'm trying, but it's hard, especially since with cold crud his hanging out in my head and throat. I have a about a half of day of feeling okay and all that has been spent taking care of Christmas and life stuff. I'm not even reading right now from the pressure in my head. I'm not super sick though, it's just enough to slow me down and make me a tag snappish (according to Wizard) at times.
I also attempted my first gingerbread house. This one was pre-assembled, so all I had to do was decorate it. I did this one to test the royal icing recipe, which turned out great. But my hand…well let's just say my hand is not a fan of piping stiff royal icing. But I think we can all agree that's not a terrible loss as gingerbread houses are NOT my secret talent.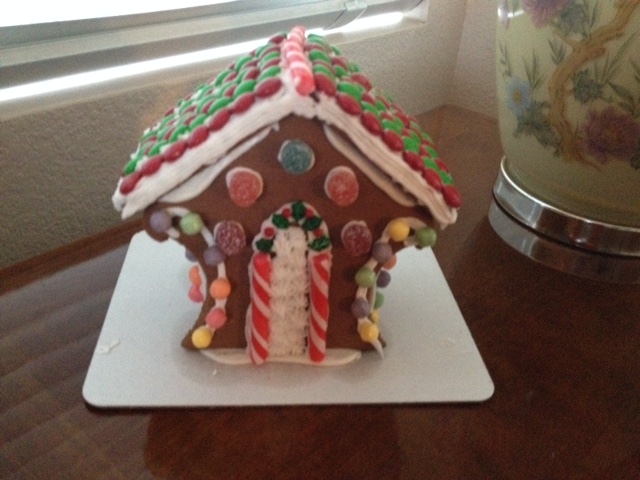 Still it was fun, and I'm going to try to do the other one later this week if I can find the time and energy with a million other things I have to do.
So that's been my weekend, how was yours?