Monday, January 23rd, 2017
Release Day!
It's here! Good, Bad & Sexy should be released at all the vendors! Ever since I got the rights back on this book, I've been holding onto it, waiting for the right time to re-release it. I chose now because I think we can all use a fun, charming, sexy story to give us a break from real life.
What happens when a wedding planner is pushed too far and loses her temper–with a staple gun?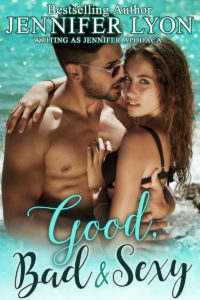 Grab your copy and find out for only 99¢
My weekend was all about taking care of Wizard who had surgery last Tuesday for his severely herniated disk. Like most recoveries, it's two steps forward and one step back, but overall he's healing well with no complications so far. Last night, he was working hard to walk unassisted for the first time. I was so impressed, I had Alexa play Eye of the Tiger and We Are the Champions. Wizard cracked up, then we were trying to think of winning and fight songs…and laughing so hard it's a wonder he made it safely back to the couch.
I'm writing bits and pieces when I can, and working on other tasks as I have several projects in various stages of production. I'm NOT letting myself get overwhelmed by work–it's a waste of energy.
So how was your weekend?