Monday, October 16th, 2017
Weekend Roundup
Oh Maggie! So this is our new foster pup. We name her Maggie. Wizard decided we should pick her up Friday rather than Monday: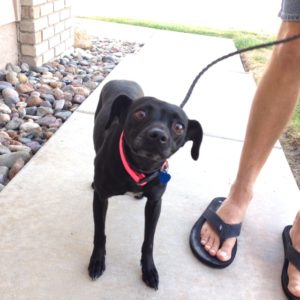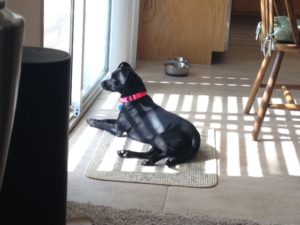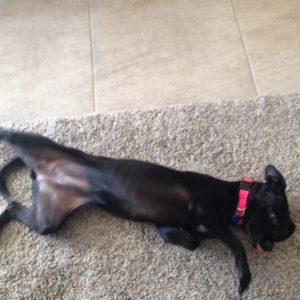 Everything was going great until the Saturday night when she decided she didn't want to be in her kennel and barked for a LONG time. It was probably about a half hour after I checked her (in case she was sick or had to go to the bathroom, and because I'm soft like that), but felt like YEARS. I thought Wizard was going to lose his temper. He hasn't so far, but we're both tired

Maggie will figure this out.
In a funny twist, Maggie is good as gold in the day, except she's way more attached to me than Wizard. I'd say that's pretty normal for a shelter dog, especially since I tend to take care of her. That will even out as she gains in confidence. She's great on a leash, so far she never chews on the wrong things, she seems potty trained and she's sweet as pie. I took her to Petsmart with me to buy her a new leash, and she charmed everyone there–dogs and people alike. They should be here around 10:30 tonight, LOL! Seriously, she was a very good girl there.
But we are having a battle of wills about where she sleeps!
I'm trying to read through the 350 pages I have on the manuscript for SAVAGED DEVOTION because I know there's something off in there, something I'm sure I can fix once I find it, then go onto writing the end. Plus I want to clean up a some chapters for a critique partner.  I'm trying hard it's just slow going with all the medical crap and Maggie

In other news, we went to Special K's birthday party over the weekend and she's looks great four to five months pregnant. CPA Boy got her a diamond heartbeat necklace for her birthday and it was stunning. It has a tiny diamond in the center of another diamond that beats (glitters) like a baby's heartbeat. I'd never heard of it before this, but it was really pretty. We also got to see Middle Son's finance's gorgeous engagement ring. Middle Son picked the perfect ring! He also planned a lovely proposal. I'm really proud of him and excited for them both.
I'm working today, and Special K is taking a break from her school work (she's gone back to school for her masters degree in an IT related field while pregnant!) to come meet Maggie. That will be fun.
So that was some of my weekend, how was yours?