Monday, October 23rd, 2017
Weekend Roundup
I really want off the Life Sucks train. We had a shock this weekend, but it's not about me, Wizard, the kids or our foster dog, Maggie. Now let's talk about something fun.
Maggie got presents! Youngest Son and his lovely fiance came over and look at the doggie shirt and two toys Fiance brought Maggie!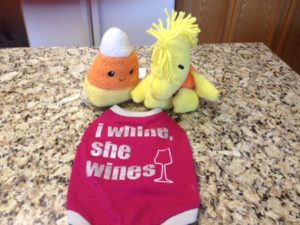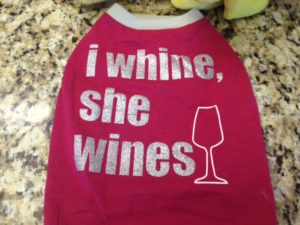 It's hot here right now, so I only had the little shirt on Maggie for a few minutes, but how cute–and true, LOL–is that! And look at the bright, fun toys. Maggie's still unsure of toys, yet she played with both of these.
And it other amusing news, so Maggie is timid and having some separation anxiety from me. This is all pretty normal for a shelter dog, but Maggie is also starting to really show her intelligence. Sunday morning, Wizard and I both left to do different things, and we left Maggie out of the kennel. We're doing this slowly as, so far, she hasn't chewed on the wrong things or done anything destruction. Now really quick I need to mention that in a week I've established a pretty clear routine with Maggie. When I'm going to take her for a walk, I put on my old Reeboks. I always wear those same shoes. I pointed out to Wizard that once I put my shoes on, she gets excited and noses her leash that is hanging over the coat closet door handle.
Smart girl.
So Wizard and I headed off to our separate things. I got home first and Maggie showed some stress-panting and clearly had been a bit anxious. This is just something she's going to need to work through and understand we're coming back. But I wondered what I'd find in the house. I really wish I'd taken pictures but I didn't think of it. Here's what she did.
Pulled the leash off the door handle of the closet. ONLY the pink leash that I use on her, not the black slip lead that came from the shelter with her that Wizard uses. I found it laying on the ground.
In my bedroom, I found she'd take my old Reeboks out of the closet, through the dressing area and dropped them by the door of the bedroom.
Neither the leash or the shoes were chewed. I can only surmise the Maggie wanted to be with me and knew she'd need her leash and my shoes to do it. I'm just guessing…but it was weird. I couldn't find anything else moved. Clearly she had some plan.
Today will be a long day at a funeral. I'm just going to keep trying on my book when I can work

So how was your weekend?