Monday, February 19th, 2018
Weekend Roundup
It was a great weekend! Well, aside from a small infection in my thumb, that is mildly gross and pretty much my fault. Peroxide and neosporin should take care of that.
So dress shopping with Middle son's fiance was fun and she found the perfect dress that made me tear up when I saw her in it! The group included fiance, her mom, grandmother, aunts, cousins and friends (11 of us in total!). Technically I was the outsider, but they were all so warm and welcoming to me that I never felt that way. We began lunch on that patio of a charming cafe then onto the first dress shop appointment. That place wasn't the experience we had hoped for. But our bride-to-be was game to give it a try to we were all in a great mood. They had some nice dresses, but nothing that was THE ONE. Everyone was very positive, we headed to the second dress shop and it was like stepping through the looking-glass into pure elegance, just like on the bridal TV shows.
We began to scan the lovely displays finding breath-stealing dresses! Then we looked at the price tags. Holy Houses! As in those dresses cost about the same as a down payments on a house!
And then we moved to another room brimming with more beautiful dresses, and these had price tags that fit into her budget! (She has a very reasonable budget.) The dress consultant took her off to chat about her wedding, then they got started. We were all settled in a very comfortable seating area around a modeling pedestal and mirror. We were served chilled pink champagne in flutes so enticing that even I tried one (I wasn't driving). I usually avoid champagne as it will give me a headache, but I sipped one glass of this with no headache. It was crisp, bubbling and just a touch sweet. Then our girl came out in dress after dress, each more stunning than the last. The consultant really began to do some magic then, swiftly defining what she loved and what didn't work until he seemed to know exactly what her dream dress looked like. Then he whisked our bride off again.
When they returned for the final time in a dress he had selected, I had the moment a chills and tears. Her mom, aunts and grandmother felt it even more of course, they all have loved her from the moment of her first breath. But for me, when I saw her beaming in that lovely, perfect dress, all I could think was There she is, my son's beautiful bride, and our new daughter-in-law. I know, I know, I sound ridiculously corny. But some of this may make its way into Savaged Devotion

Sunday was an equally great day. For Youngest's birthday, I spent the morning making ribs and chocolate kahlua pound cake with a chocolate ganache icing.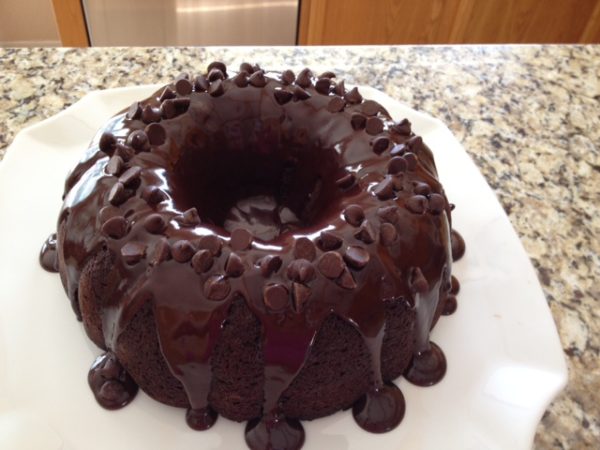 I also made some kahlua whipped cream to add to the cake or coffee. And yes it was over the top, but I was enjoying a morning of cooking and baking. I did 90% of everything ahead, so it was easy and fun when Youngest and his fiance were over (they will marry next year). We had a nice, low key afternoon and they both seemed to really enjoy dinner and the cake (and playing with Maggie!)
My neck, shoulder and arm is bit sore but the weekend was worth it! Since the first epidural shot a few weeks ago, the pain settles down pretty quickly with a little rest and the meds I have on hand so I'm not concerned.
Today it's back to the book! I'm hoping to pick up some speed again. This week should be less busy and I can focus on writing.
That was my weekend, how was yours!