Monday, February 26th, 2018
Weekend Roundup
Saturday morning was cold and clear, and Maggie and I conquered the Stairway to Heaven through the hills (in the national forest behind out house):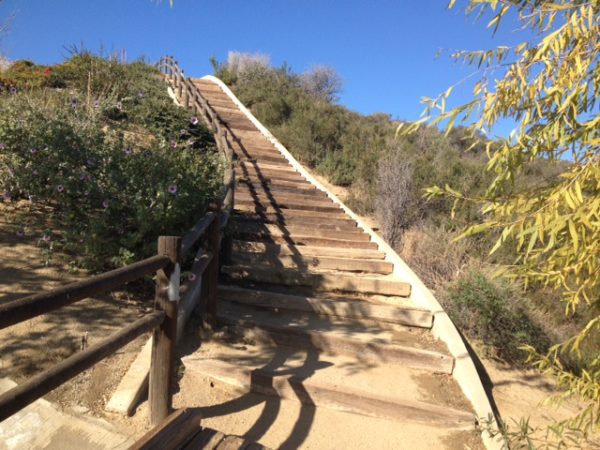 This is one set of the zillion and two steps up and down through the hills, but it really is surreal up there! Worth the climb! Although coming back, my foot slipped on some sandy mud, and I had that split second of Oh shit! but I didn't fall! Fortunately, Maggie either heard me slip or gasp, and stopped so I was able to regain my balance. All the steps have railroad ties at the edge, which really helps too. But this is also why I work to stay in the moment and pay full attention to what Maggie and I are doing.
Back at home, here is Maggie waiting for a treat in a small barren patch of our hill at the side of our house. Can you tell she wants the treat?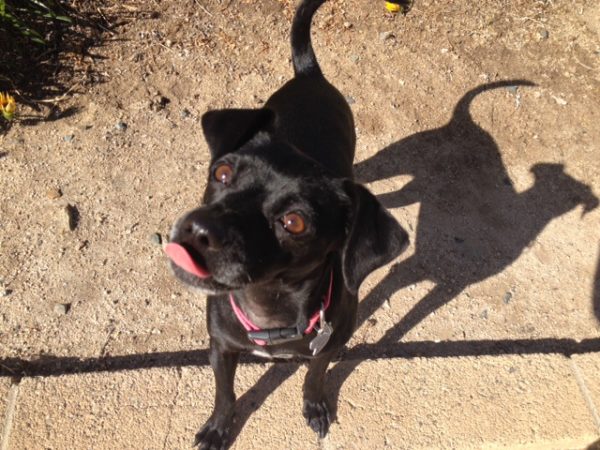 Today I'm working on a foreign rights offer on my old mystery series. I want to say here, that I emailed the Steven Zacharius of Kensington Publishing to make sure the old licensing agreement had expired and he answered that he'd follow-up on Monday. That's right, he took the time out of his Sunday to let me know he'd check on it. That was way above and beyond any call of duty and truly appreciated. I know people have their own stories, but I always found both Kensington and Random House, my two NY publishers, to be professional and generally helpful even years after I stopped writing for them.
And since I'm generally unimpressed with the Weight Watchers freestyle, I'm just focusing on being healthy, happy and grateful.
So that was my weekend, how was yours?