Monday, March 26th, 2018
Weekend Roundup
Another great weekend with very little work getting done. I'm really trying, but easily distracted by my new role as a grandma. But this will level out like all things do.
So Baby Slayer update: He's doing fantastic! Wizard and I went out Saturday to spend the day and help out. Wizard insisted he had to hold him FIRST. I laughed, and made sure he got his wish. Then CPA Boy asked his dad if he wanted to feed the baby a bottle and Wizard handed Baby Slayer off to me. LOLOL!!! Men

It was a good day, and the little guy is thriving now. Here's a not-so-great picture of me with the baby. Wizard was trying to take it with my phone.  He takes wonderful pictures with his camera, but turns all thumbs with my phone.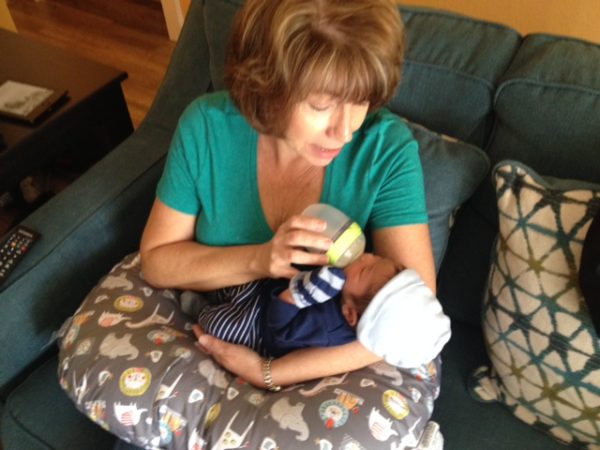 I took a couple closeups, but in those, he (that baby, not Wizard

) has a hold of my top and more cleavage than strictly necessary is showing so I'll spare you those

In other news, I forgot to tell you all that I had the audiologist appointment, and got some results. I've had 11 months now of tinnitus (ringing in my ears). It's bilateral (both sides) but more severe in my right ear. I do okay when I'm active and busy, but sitting and trying to write or sleep is really tough. I have to try to block it to write, so it takes double or triple my normal concentration, if that makes sense? So…to my relief, the testing found that I'm having abnormal pressure in my right ear. I also have some hearing loss at a very high pitch that's above the human voice range. But the rest of my hearing is normal–another relief. One theory was that I was going deaf. That does NOT appear to be the case so far.  So my next step is to see an ENT. I fully understand this may never go away, but at least there's something real going on, not just my imagination

So now it's your turn–how was your weekend?