Monday, May 7th, 2018
Weekend Roundup + Rant
It was a good weekend, but there's no way I can get everything crammed into this blog in the short time I have to write it, so I'll  recap with–we had a good weekend. We saw Baby Slayer and he's getting bigger, stronger, faster and amazing!! Here's the picture I posted on my FB of him (he's 7 weeks old):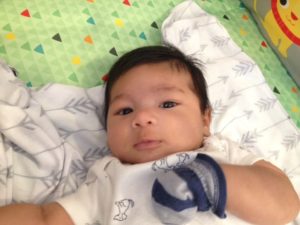 Now taking off my Grandma Hat and dusting off my Author Hat: If you've ventured anywhere romanceland online over the weekend, you've probably heard that latest uproar. I oftentimes avoid social media pile ons, but I consider this a potentially serious threat to authors. My recap is this: A self published author has trademarked the word "Cocky" that appears in her series title, thereby (supposedly) preventing other authors from using the word in their titles. And she's sending takedown notices to authors who've used "Cocky" in their published single book titles.
**NOTE: I am not a lawyer, I don't play one on TV and this is not legal advice**
However, I'm an author who's been around a long time, and I'm calling this a cheap-ass, attention-grabbing, bullying move. If it's not and I'm wrong, I'll happily admit it. But from where I stand, that's what it looks like. The word "Cocky" has been appearing in titles for quite awhile now BEFORE she used it, and it's a commonly used word in romance. It's my opinion (and only an opinion) that it should never have passed the trademark threshold, but that's not something I'm not at all qualified to judge, so whatever.
However I've been a human being for decades now, and I'm not seeing much humanity in her actions of sending authors cease and decease letters with a threat to sue, and then reporting them to Amazon, as the authors involved claimed has happened (see copy of takedown letter here). That does not show class, integrity or good business sense.
Again I could be wrong.
But I'm not wrong about this: If something like this happens to you as an author in the romance world, reach out to your fellow authors. We will try to help you if we can. That's exactly what is happening with this latest uproar that has the (unfortunate in my view) name of "#Cockygate" on Twitter. You can also read more about it here http://jennytrout.com/?p=12071  and a more legal explanation here of Trademark here http://legalinspiration.com/?p=503
Also if you've been targeted for using "cocky" in a book title, Romance Writers of America would like to hear from you. They are working with an IP attorney to clarify this issue, and hopefully resolve it. Contact Carol Ritter carol.ritter@rwa.org
What I want you all to take away from this bears repeating: IF SOMETHING LIKE THIS HAPPENS TO YOU, ASK FOR HELP! The romance community has its faults, but when we pull together to help authors we feel are being treated unfairly, we are powerful and relentless. You're not alone. We may not be able to give you an instant fix, but we can be there to support and help you.  I've reached out in my career and received help, and I believe I've helped others.
So, as you may know, I've been very quiet on most social media lately, and in fact, this blog is where I engage the most. But even though writing is a struggle for me with my cervical spine issues right now, I still care passionately about all my fellow authors. I respect their hard work and right to make a living. So here I am speaking out

Okay, stepping off my soapbox now. How was your weekend? As always, I really want to know!