Friday, August 10th, 2018
Friday Firestorm Late Edition
It's a miracle, but our house, and all our neighbors houses, are still there. We are safe and Maggie is with us.
Here's the longer version if you want to read it: Okay, so first, sorry this is late.  It's been a wild ride this week. Here's the timeline: (Please excuse all typos, I'm typing in the early morning, it's dark and I've had maybe eight hours sleep in five nights).
–Our air conditioning broke over the weekend in a serious heatwave. We can't get the company we want out until Wednesday afternoon to determine if we can fix it our must replace it.
–Monday, when we were taking Maggie to boarding to get her out of the heat for her safety, we saw a massive fire had broken out in the hills behind our house. I walk at the base of those hills every morning, and occasionally hike up into them, but not during snake season.
–Tuesday, Wizard goes with me to neurosurgical consult. We know my neck is bad, both of us have some experience in reading MRI's now, LOL. But Holy Cow, this surgeon wants to do VERY dramatic surgery. I'm in shocked and Wizard is concerned. We say, whoa, we need to think, research and maybe get a second opinion. This surgery is bordering on dangerous, so yeah, whoa.
–Wednesday morning, fire jumps ridgeline. And now it's a serious threat. Voluntary evacuations go out in reverse 911 calls. We pack up just pictures, documents and a few days clothes and wait for A/C guy. Finally I got pick up Maggie, and by the time I get back, fire is exploding. Mandatory evacuations go out. I leave, Wizard reschedules A/C and we get safely to his mom's house with Maggie. I think this is the day the man is arrested for setting the fire.
–Thursday Morning, fire lays down a bit overnight. Special K brought Baby Slayer over to hang out and keep us company. Our hope soars, but by one o'clock in the afternoon fire has exploded again. It's racing down hillsides, and this is first hand account from my neighbors: They heard the roar of a firestorm coming. Flames tore down the hill to the street behind ours, jumped it and set a fence on fire. Neighbors were there with fire hoses hooked up to hydrants (one is a firefighters wife, this is partly her account). They were sure they houses were gone. Then the firefighters swooped in and somehow stopped it right there and saved all the neighbors. Guys if it hit my neighborhood, it would have swept through several communities. People and animals would have died. We saw it on TV, and for the first time, I started to cry and Special K evidently called CPA Boy, he came over with youngest son and stayed with us until we knew our home was saved. We still don't know how they stopped the firestorm, but Thank God!
The hillsides are, from what I'm told, completely burned by our homes. We'll try to get in to look today, but likely can't stay without A C.  Smoke and ash are everywhere, and the fire is still burning–more than 10K acres now. Maybe Saturday we can go home, if possible. A C guy comes Monday.
We have a lot of heroes to thank, all the firefighters, first responders, pilots and the neighbors who stayed when the rest of us evacuated. We know anything can still happen with the active fire burning, but we are in better shape than yesterday. Now we have to pray for everyone else threatened.
Thank you to my family, all of you! Wizards mom and her husband who took us and Maggie in at a moment's notice. My boys and girls, all of them. But Special K, she was my girl yesterday, just there with me as only another woman can be. And Baby Slayer!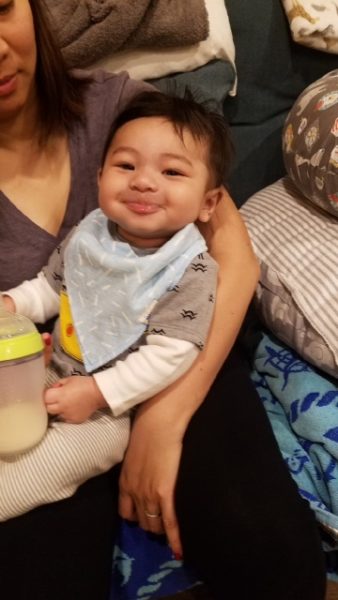 And all of you. Thank you for caring. I know it's just a house and things, and we never lost sight of the fact that we got out safely. But I'm grateful to have a home to go back too, and even more grateful for friends like YOU.