Monday, February 25th, 2019
Weekend Roundup
I imagine I'm going to be sore today after having a Turbo-day yesterday. How much work can one 11 month old boy be, you ask? I mean look at this face, he's an angel, right? (This is him with his dad after they got home)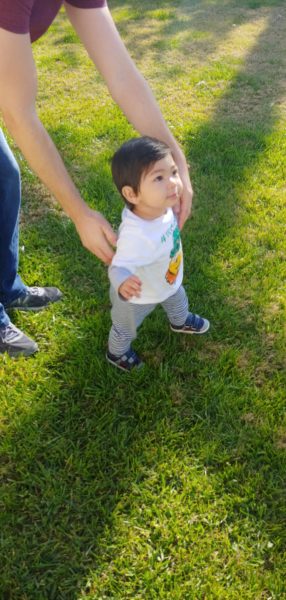 Overall, Turbo was pretty good for me and his aunt–until we tried to change his diaper.
His mom warned us. Then she laughed when she got home and when we described that feat of sheer teamwork, speed and strength to we summoned to change one baby's diaper. Then she said, "Sometimes it takes three of us." Meaning, her, my son and one of her parents who live nearby. She's NOT kidding!
I told her the truth–she could have an entire football team and it'd still be a struggle! That cracked her up even more! Turbo is a busy boy with no time for silliness like diaper changes. For the record, neither Turbo's aunt, nor myself are wimps (I had three boys in five years), that kid had a clean diaper on, was fully dressed and shoes when his parents came home! Okay, yes, he had a little food stain on his shirt, but he was fully dressed!
And guess what we got for our amazing efforts?
Cupcakes! Yes, Special K and CPA Boy brought us home cupcakes because we are awesome babysitters

  Not a bad gig at all! FYI, the cupcakes were totally unnecessary but very enjoyable! I had a chocolate cupcake with mocha frosting–yum. After I ate it, I discovered it was a healthy vegan cupcake. Sneaky!! But it tasted good so what do I care?
The rest of the weekend was good. I did some writing (slow!) and I finally won the battle of the vacuum. Wizard actually "let" me vacuum the downstairs

I really is the first time I've vacuumed since the surgery because Wizard…well…he's Wizard. But he's relaxing more and more.
Today, if I feel up to it, I'll go the gym. But if I'm sore from lifting Turbo, I'll wait. I won't jeopardize all the progress I'm making! I've pushed pretty hard this last week.
And one last thing: Under "puzzling" stuff, Maggie had developed a sudden, unusual fear of the ding-alerts from Wizard's cell phone makes. It truly was sudden, and we're not sure what set it off. She came to us a year-and-a-half ago with a lot of fear and anxiety that solid structure and exercise has helped tremendously, so this caught us by surprise. We're trying to ignore it, and if that doesn't work, then we'll try to get her passed it by doing the noises throughout the day when she's distracted. I could easily ask Wizard to change the sounds, but I'd rather help her work through it. This small incident has been a big reminder of how far Maggie has come in developing confidence and coping skills. This is just a blimp we'll figure out over time.
So that was my weekend, how was yours?