Monday, July 22nd, 2019
Weekend Roundup
A good but busy weekend! Here's the highlights:
Friday: I honestly can't remember, LOL! Biker Witch came home from the hospital and…OH! The garage door spring broke. Wizard knows how to change out the spring, and we've done it many times. But there was a complication that took a couple of hours of troubleshooting to finally resolve. We were just minutes away from calling out a repair man when Wizard figured out the solution. Whew! It wasn't the money as much as the inconvenience for Wizard as his garage is his workshop and he needs the garage door open.
Saturday: For the first time, Wizard and I went to look at existing homes (rather than new) in our target area. The one we were most focused on was nice, but it won't work for our needs. Not a big deal since we still love the home we have, but would like a one-story at some point in the future. We also rehung the repurposed picture frames over our fireplace mantel with another sign I bought, and I love it now! All I need a couple find a couple smaller items to go on the mantel, and that spot will be done. Here's a pic (from before I straightened the one on the right.)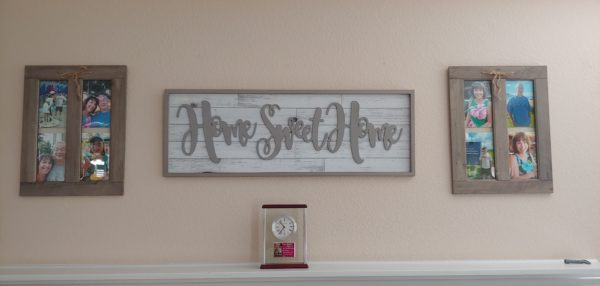 A few things in the family room are a work in progress right now, but I'm making progress as my budget allows.
I also made a couple necklaces, that's the first time I've worked on jewelry since my surgery. I didn't have any problems with my neck or shoulder which is a definite win!
On Sunday, I was walking Maggie at my normal time in summer, about 6:30 in the morning. I know for some it sounds awful, but Maggie and I really enjoy it, and I pass others doing the same most mornings. So yesterday morning I passed a man I've seen a few times with his small (and very cute!) dog.  We stopped to chat for a second and he said, "I've noticed whenever I see you that your dog is really well-trained, are you a professional dog trainer?" LOL! It's a lovely compliment, and I preened a little for Maggie. I have her trained to my needs, but she's definitely NOT professionally trained. Still it's really nice to hear others think she's well-behaved. Complimenting Maggie is like complimenting our kids or grandson

After that, Wizard went racing and I went out to play with my grandson Turbo. Love that boy! We sent pictures and videos to Wizard to make him jealous. He, in turn, sent a picture of his "racing buddy" a cool dog. He knew that would give me a twinge since I want to play with all the dogs, LOL!
Much as I love all this busyness in my life, I have to carve out a writing schedule. I miss it, although the tinnitus is still giving me problems when I sit still and quiet, making writing tough.
So that's my weekend, how was yours?