Wednesday, July 24th, 2019
Maggie Visits Auntie Biker Witch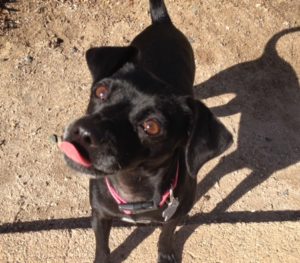 Hi guys, guess what?
Oh wait, I'm supposed to say, Hi, it's me, Maggie,  so you all know who is blogger-talkin' to you.
Anyhow, guess what? I got to go see my Auntie Biker Witch! And Uncle Biker Hubby! For reals, I did! It's the first time I got to go to their house. It was so much fun, and I was glad to see Auntie Biker Witch looking good. I didn't smell any icky-sick on her, so she must be healing well after her surgery. But my real job was just to cheer everyone up. Mom's job was to take over some food that she made.
But Mom wouldn't let me taste-check any of the food

Both my aunt and uncle thought Mom was unreasonable

Uncle Biker Hubby told Mom over and over that he likes feeding dogs a lot, and she should let him give me a few bites of food. Isn't he smart? But Mom didn't let him! She said that she was sorry she forgot to bring my treats, but I couldn't have any people food, so he'd have to wait until next time.
Mom is really strict like that. Wanna know how strict? I'll tell you. See Auntie Biker Witch has a big owie on her back so she can't move real well to pet me. She told mom, "Let Maggie get up on the couch so I can pet her easier."
Mom said "No, Maggie can stay on the floor. Next time I'll bring her couch blanket, and then she can get up on the couch with you. Otherwise, she's not allowed."
See? Isn't that crazy strict? Of course, I played it up a little after that, laying by mom's feet and looking like a good girl who deserved extra couch time. But later in the car, Mom told me that she was worried I might accidentally hurt Auntie Biker Witch, and then I'd feel all bad about it. She was protecting both me and her sister.
I guess Mom does mean well.  But she could have let Uncle Biker Hubby give me one or two bites of people food, right?
That's okay though. When Mom was talking to Auntie Biker Witch, Uncle Biker Hubby told me in secret that he's going to buy me my very own bag of special dog treats that he'll keep at the house for me! Shhh…don't tell mom

So that was my big adventure yesterday. Did you have any adventures this week?