Wednesday, September 4th, 2019
Wednesday Roundup
Happy Hump Day!
We had a great trip with Middle Son and his lovely wife to Paso Robles, and came home with 7 bottles of nice wines. That's a LOT for us. We had 8, but opened a Malbec to share with Middle and Wife on Saturday night. Beautiful Chef–that would be Middle's Wife, and only one of her many talents–prepared a meal of tri tip steak, potatoes and salad in their trailer, so we brought the wine and homemade chocolate chip cookies. The meal was delicious! Here's the four us at one of our favorite wineries, Calcareous: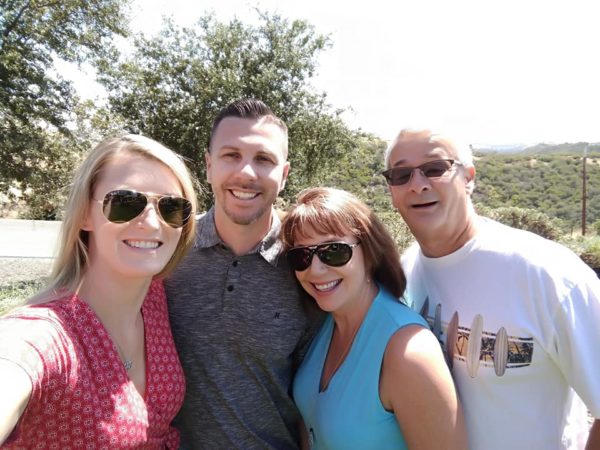 It's truly a stunning place, but to get there requires travel on a treacherous mountain-type road with no guard rails. I park Middle Son in the passenger seat, with Wizard driving (he was our DD, and severely limited his tasting to very specific wines he was interested in buying). I'm better in the backseat talking to Middle's wife as looking down gives me vertigo. We went to four wineries in all, three were great, and one wasn't to our taste.
And I got to play with Middle Son's two dogs, Jett and Hazel! They are both great dogs, fulfilling my big dog fix without any of the work

I admire how very committed the two of them are to making sure Jett and Hazel, who are power breeds, are raised to be gentle and trained.
We got home just in time to pick Maggie up from boarding on Sunday. When I got there, she was hanging out with a little girl (the daughter on of the ladies who worked there) who looked to be around 7 or 8. Maggie was just walking around with her and the other small dogs, totally content–at least until she saw me. When the girl realized I was taking Maggie home, she told me how sweet she was which was wonderful to hear. I was thrilled that Maggie seems to be doing ok there, and got to hang out with a girl she clearly adored. As usual, once Maggie was home, she went seamlessly back into her routine, which tells me she's not unduly stressed. She was tired, but that's typical.
Now we're back to life as usual. And gearing up for Youngest's wedding in November.
So that was my weekend plus days off from the blog. How was yours?