Wednesday, September 11th, 2019
Maggie Has Something To Say
Hi guys, it's me, Maggie!
I'm here to set the record straight. On Monday my mom told a story…and guys…she made it sound like I'm some sort of crazed lizard killer-plus-eater. That's totally an exaggeration. I mean, yeah, I'm super good at playing hide-and-seek and chase with my lizard friends. And I catch them in my mouth because I don't have any thumbs or hands, so duh, how else would I catch them? But I don't eat them.
That's why I'm here to show you all the real story that I'm a really good girl. A picture is worth a thousand words, right? This is me on my special mat where I wait while mom or Wizard-dad makes my dinner.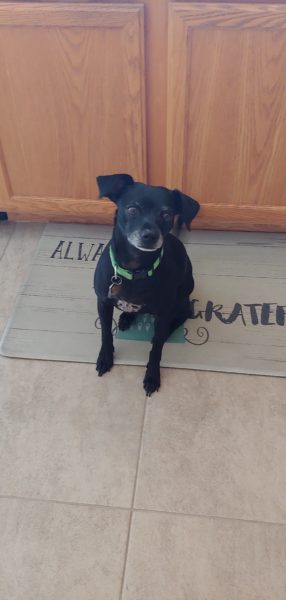 And sometimes, when they don't remember how to tell time, I sit on the mat to remind them that it's time for dinner.
Now would a crazed lizard killer-plus-eater do that? And notice that my mom didn't post any pictures, so clearly, I'm giving you a much more accurate story, am I right?
Thanks for letting me set the record straight!