Wednesday, December 11th, 2019
Maggie the Elf
Guys! Look! I have one and a half Elf ears. And Wizard Dad says I'm getting white eyebrows and a beard almost as good as Santa's too. That must mean I'm almost magical like Santa and his Elves!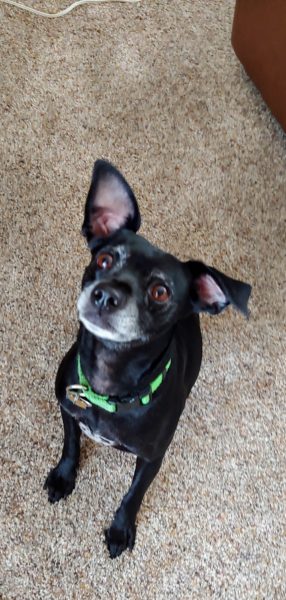 You know what else? Yesterday I had to go get a bath and a puppy pedicure.  I don't really like those. BUT…Wizard Dad said I could stay there for three whole hours, which meant I got to play with my human friend Emily, and lots of other dogs before my bath! I was so excited when I got there, I ran right in to my friends and forgot to say goodbye to Wizard dad

And look, my ears are real clean.
If I was a real Elf, I'd wave my magic paw, or maybe my magic ears because I have some big ears that can hold a lot of magic, and I'd find all the dogs waiting in kennels their forever homes. Yep, I'd do that for reals. Only after that would I use any leftover magic to convince my mom to give me more of the chew disk things that I love but she worries aren't very good for me.
What would you do if you were an Elf? You have to name one thing for others you care about, and one thing for yourself too, okay? Because you guys are super duper important too. Mom says it all the time!