Monday, December 23rd, 2019
Weekend Roundup & Merry Christmas/Happy Holiday!
Hi guys! How was your weekend? Mine was pretty amazing. I got to bake just for sheer enjoyment, as well as see my grandson Turbo, two of the my sons and their wives.
And Turbo called me Grandma! It's sounds like Am-ma, but close enough to thrill me! He was chatting away to me, and I adored every second. He also LOVED his cookie. Here's what the cookies looked like: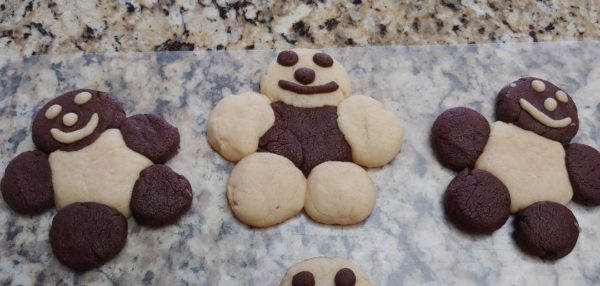 They are big, so I was trying to split it with him, but he had a death grip on his cookie, LOL! I think I managed to eat about half of it. Anyway, the cookies are very simple, have no icing (by design as I didn't want to overload him with sugar), nor did they use any of meger decorating skills. But since Turbo's not even two years old yet, I figured these would make him happy. They did! I don't have a picture of him eating it because he was sitting on my lap, and my phone wasn't close by. FYI his parents were out doing last minute shopping, but I checked with him mom and dad to make sure it was okay to give him a cookie after I fed him lunch.
In other news, my side is improving enough to relieve my mind a bit. I didn't tell anyone for a few days, but I felt a definite pop when it happened. I don't think I've been in anywhere near enough pain to have fractured a rib, but I've been somewhat careful just in case. It's still sore, especially when I laugh or try to sleep on my sides, but it's definitely improving enough that I'm relatively sure I didn't fracture or seriously bruise my rib.
Today Biker Witch and Biker Hubby are coming for an early Christmas dinner. Christmas Eve will be pretty quiet, and Christmas Day we're going to see Wizard's mom. I'll see or talk to the kids, but we'll do our family Christmas with our sons and their families on the following Saturday. I'm looking forward to all of it.
And finally, I'm not going to post on Wednesday, Christmas Day, so I want to say now: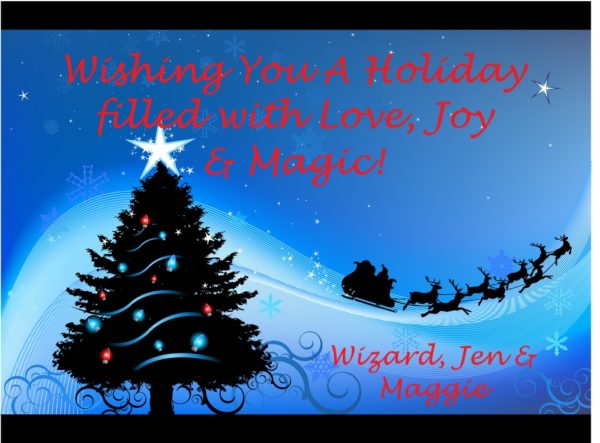 I hope you all have a safe and happy Holiday! I should be back on Friday, but if for some reason I don't post, then I'll definitely be here on Monday!