Monday, January 27th, 2020
Weekend Roundup
Stunningly sad news about Kobe Bryant, his daughter and all the people in the helicopter with them. My heart breaks for all the families and loved ones. I'm writing this right after I heard, so I'm still just shocked. Since I live in So Cal, Kobe is (gosh, I can't even say was yet) big news around here.
Okay, moving off this, my weekend was good and bad.
Good was our grandson, Turbo! CPA Boy, Special K and Turbo came over, and for the first time in a while, it was all about Grandpa for Turbo. Wizard was ecstatic and they had a great time together while I made blueberry pancakes.
Then Uncle Youngest (BLB) and his wife crashed the party

Youngest brought Turbo another gift, an awesome car set that Turbo loved because Uncle Middle shamelessly spoils his nephew and is quite smug about doing it. This is going to come back and bite him in the backside when he has kids and Uncle CPA Boy spoils them, LOL! Brothers. (Uncle Middle is just as shameless about spoiling Turbo.)
The bad news is Maggie got sick again Saturday and kept throwing up for a couple of hours. Not good. When our Family Vet Tech (Youngest's wife) got to the house, she looked her over, said she was slightly dehydrated, but if things didn't get worse I could wait to take her in Monday. Maggie seemed to stopped throwing up and I semi-relaxed. We had a great day, everyone left, I gave Maggie some rice, put her in her bed by our couch and Wizard and I did some stuff.
Then I looked at Maggie.
She'd quietly thrown up. Again. Right by my feet and I didn't hear her (Bad Mom!). However, she got right up while I cleaned up, then she drank some water, went outside,  came back in…and thing got worse: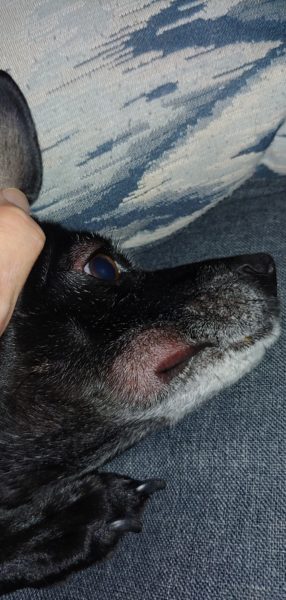 The side of her mouth swelled up and it was bad (probably worse than the picture shows). I got Benadryl down her in a spoon full of pumpkin. The other side of her mouth and one eye swelled before the Benadryl finally began working. Thankfully her airways seemed clear and she was breathing fine. It had to be a reaction to something, but we have no idea what might have stung or bit her, what she might have eaten…no clue. Or if it's related to the vomiting. By the time I put her in her crate to sleep, she was better and I was a wrung out mess.
After a night spent imagining the worst, she looked much improved in the morning. So far, she's held some rice and dry food down as I'm writing this Sunday afternoon, but I'm taking her in to her vet today if I can get her in. I will feel better getting her checked out.
Sadly, I've been planning and wanting to go see Middle son and his wife on Sunday. Our schedules haven't lined up lately, but we finally got it worked out and I had to cancel

Of course Middle Son understood which helped a lot.
Want to guess how much writing I got done? I'm fighting the middle part of the book that is a major turning point. One voice in my head keeps saying just move forward and fix it later, but another voice bellows that I can't, it's too emotionally vital to set up the rest of the book. I really need the voices in my head to all get on the same page and work together! Is that so much to ask?
So that's my long weekend story. How was your weekend?
P.S. Once I know Maggie is okay, she's going to be in really big trouble for scaring me like this!