Monday, March 9th, 2020
Weekend Roundup
We had a nice weekend. Rain is moving in, but the weekend was actually beautiful with coolish weather and clouds dotting clear skies. We are surrounded by hills that are gorgeous in this kind of weather. About mid-August, it's just dry and barren.
Anyway, Saturday we went out to visit out grandson, Tubro. Here's a pic of the two of us. As soon as Turbo saw that his mom was taking a pic, he pulled back and posed, which made me flash my crazy, demented smile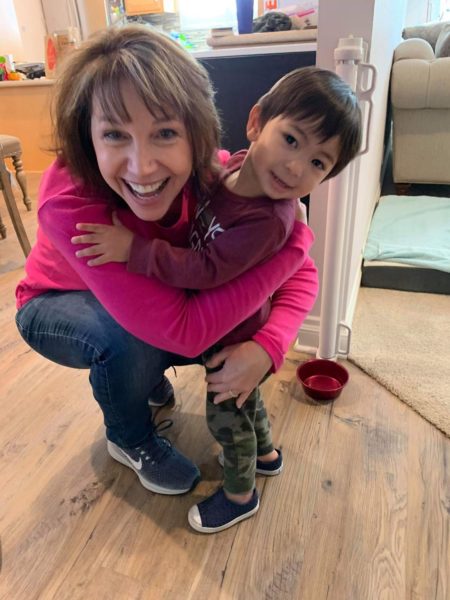 My head looks as big as a horse's but the important thing is Turbo, LOL! Also, I got to see CPA boy for about 15 minutes too, and he looks fantastic. The last two tax seasons took a toll on him due to things beyond his control, but this year is going better. He's striving to take care of himself  and keep up with his workouts to manage his stress and pressure. Of course, we all know the real secret is having a great partner in life, Special K.
Sunday we headed back out to middle son's to see him and his wife (both CPA Boy and Middle son live an hour or more away, depending on traffic). Maggie came with us and played with her cousin pups, Jett and Hazel. Maggie's getting better with them, and she adores Middle Son and my daughter in law! Then we took Maggie with us to go to lunch–that was a first for her. She was well behaved with us out on the patio of the restaurant. I split a Fresno Fig Burger with my daughter-in-law. It's a gourmet burger with fig marmalade and goat cheese. I'd never had it before, so I figured why not try it? It was delicious!  (And yes, I can, and sometimes do, eat an entire burger, but we were sharing appetizers too so there was plenty of food).

Both days were so lovely. As I'm writing this blog Sunday afternoon, Wizard headed over to Youngest son's to give him a hand with something at his house, which means he gets to see all three boys in one weekend. I stayed home to write this blog

See? You all are important to me too.
So that was my weekend with no words written

Friday was a frustrating writing day, but it's a new week with endless potential!
How was your weekend?