Tuesday, March 24th, 2020
Maggie Attempts Social Distancing
Hi Guys, it's me Maggie. Do you see? I'm Social Distancing.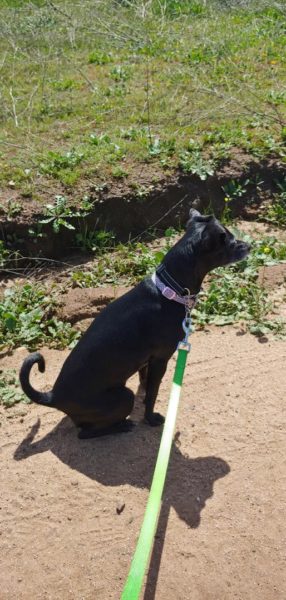 My mom explained to me what it means, and how it's super important right now. So on our walk, I sat down to let other people pass by at a safe distance. I was good at it too! But then…I saw one of my bestest friends ever–one of the really cool (human) girls who live across the street from me. I forgot all about social distancing and ran right up to her, and I kind of wiggled all of her in happiness.
I was real sorry when I realized my mistake.
But then Mom told me it's okay, because doggies aren't the sick ones, and that I made my bestest friend ever happy today which is an important job too, and I felt much better.
So I told you guys all my story because I want you all to know that I'm trying real hard to help make all humans feel better.