Monday, May 18th, 2020
Weekend Roundup
Happy Monday!
Friday–Wizard and I got deshagged with haircuts, and in my case, color. It feels nice. We did this with a friend, but are hoping salons will open soon. I trust my hairdresser to handle cleanliness, social distancing and masks. Later on Friday I make chewy chocolate cookies, and I made them small so Turbo can eat one (always with his parents permission, I never give him junk food unless his mom okays it).
Saturday, we went to Turbo's house. First thing, Turbo and Grandpa disappeared to play trucks (Translation: Grandpa snuck off with Turbo while I was distracted, LOL) I sat at the table with Turbo's parents for a quiet 15 minutes and remember that, oh yeah, they are fun to be with too

Then we played outside and Turbo's mom and dad said I could give Turbo a cookie.  Here is is enjoying the cookie.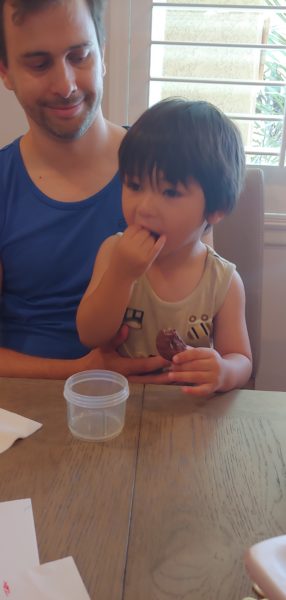 He loved it, and said, "Thank you Grandma: and "I love you Grandma." I have it on video, which is basically a tutorial on "How to train Grandma to keep bringing me more homemade cookies."
In the picture, you can see how long Turbo's hair is, so since they are not taking him out, the four of us coaxed him through a hair cut with clippers. Now his hair is out of his face, and off ears and off his neck, he'll be more comfortable for a while.  That kid has a ton of hair!
Sunday I got a little writing done, but I'm feeling my way as I figure out the next one to three scenes before I spin off to the climax. I will keep going! Everything can be fixed later.  Also Youngest and his wife stopped by to pick up his cookies (I was a busy baker this weekend, but managing to give most of them away.) Maggie is always sure they came to see HER!. She love, love, LOVES Youngest now.
Expanding our stay-at-home-isolation to include direct family has helped us to feel better. Now I just really miss seeing Middle Son, his wife and two dogs. But we'll get there soon as we work out timing issues.
That was my weekend, how was yours?