Monday, June 1st, 2020
Weekend Roundup
What a sad week and weekend in the U.S. I care deeply, and am as affected as most of us. However, I managed a small self-inflicted injury yesterday that gave me a small headache so I'll just skip ahead to some lighthearted stuff.
Friday night we saw Middle Son for his birthday. I think it's been nearly eight weeks since we've seen him, or something like that. It was wonderful. I made him lemon pound cake (his favorite), his lovely wife made salad and picked up some pizza–it was perfected. And I got to hang out their awesome dogs, Jett and Hazel.
Saturday we went to CPA Boy's. I babysat Turbo, while they repainted the patio cover. As soon as we got there, I said, "Turbo, let's go play trucks." He took my hand, ran in his room and we played the entire two hours. So Turbo stands up, bends at the waist to hold his trucks on the ground and runs with them across the house. He wanted Grandma to do this, and of course, I did. I was rather impressed with myself–until my daughter-in-law popped her head in, saw me, and tried so hard to resist laughing at how silly and undignified I looked.
She failed….I saw her laughter. And that made me laugh

Honesty, her expression–priceless!
Sunday, we returned so Wizard could help them stretch a new canvas covering over the repainted patio cover. I was playing with Turbo, when I jogged to catch him at a doorway, scooped him up in one arm, and tripped. Turbo was fine! I had him secured, and caught myself with my other foot before I fell very far. Unfortunately my face forgot to stop, and hit a doorknob. I now have a black eye. Sigh. This was me yesterday, after Wizard encouraged me to lay down. I'm sure it'll be more colorful tomorrow.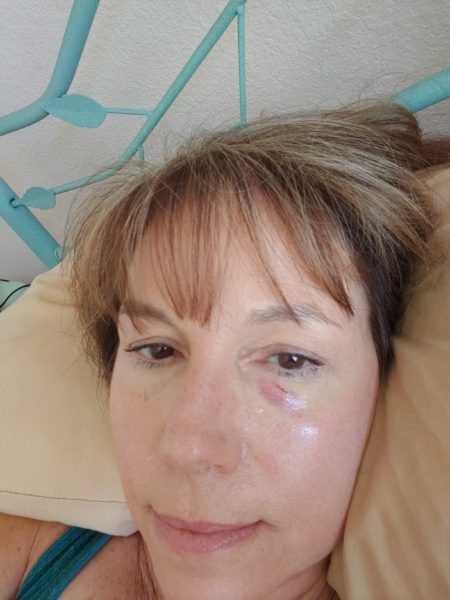 CPA Boy said, "Mom, why did I inherit your goofiness?" Ummm…I don't think that was a compliment?
Anyway, I'm fine, just irritated at myself.
I hope everyone is safe and okay. I'm worried about you all. Please check in and let me know how you are, and how your weekend was.