Monday, June 15th, 2020
Weekend Roundup
What weekend? I thought yesterday was Saturday, and suddenly realized last night that it was Sunday and I hadn't written a blog.  The weekend was pretty good.
Saturday, Wizard went to help Youngest fix a fence post, and I spent the morning making just-for-fun cookies for Turbo. I had a great time, blasting music in my kitchen and trying a new-to-me technique of flood icing with royal icing than my usual buttercream. My attempt is extremely amateurish, but I'll get better as I learn to get the icing the right consistency, figure out a better design and use a few tricks (like icing the cookies on a rack to let spillovers drain).  But I enjoyed doing it, and Turbo loved them (2 year olds aren't picky as long as it's a cookie with icing, LOL)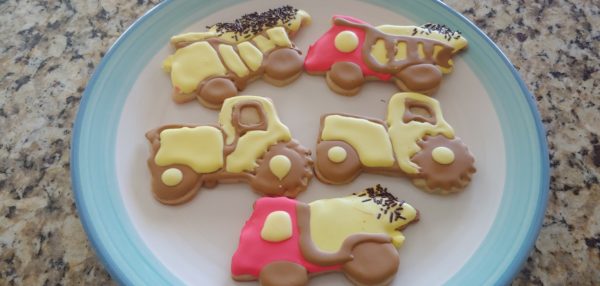 The rest of the day I worked. I'm making decent progress on the revision. This part needs more work, and I just keep plugging along.
Sunday, we went to see Turbo. If you're wondering, I don't show Turbo the cookies until his parents say it's okay. They let him pick one, then gave him half of that, and he was thrilled. Turbo's dad went into work for a while, and we encouraged his mom to go do whatever she wanted to get a break while we played. Just before his mom got home, Grandpa said, "I'm going to check traffic," and pulled out his phone. Turbo and I were playing on the floor, and when Turbo heard that, he got upset. "No! Grandpa, stop it!" Then he crawled up in my arms. I was amazing that he knew that meant we were leaving soon. For the entire three hours we'd been there, he hadn't cried once.
Today it's back to working on the book.
That was my weekend. How was yours?