Monday, August 24th, 2020
Weekend Roundup
Friday I made the red velvet cupcakes and took them over to CPA Boy, Special K and Turbo's house. Middle Son and his wife came too. Special K made awesome carne asada tacos and we had a great evening.
Then we brought out the cupcakes. Turbo took his cupcake apart, then walked up to me sad-faced. "Grandma, do you have chocolate?"
Do I have chocolate? Bwhahaha! I whipped these out: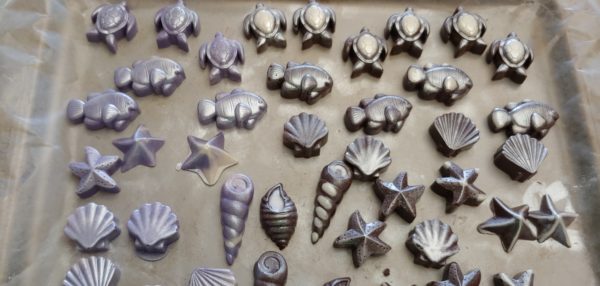 Turbo was a very happy little boy while everyone else made fun of the crazy grandma who spent hours making those chocolate for a 2-year-old. Special K asked me if I was going to whip a package of M&Ms out of my grandma purse like I did last time I was over. I cracked up. Honestly, they are such good sports and I run everything by them before I give Turbo anything. Although later in the evening, Turbo was asking me for more chocolate, and Mommy jumped in to get Turbo a healthy snack. She didn't trust grandma alone in the kitchen with Turbo and the chocolates he desperately wanted.
Wizard later sulked because I didn't bring any chocolates home (I would eat them all!). And he's plotting how he can win more Turbo points away from Grandma. Little does he know I'm already looking for truck molds for chocolate since Turbo loves trucks

Otherwise, I spent the weekend in the mud pit with my characters. The rumors that I held their faces in the mud until they agreed to cooperate are grossly exaggerated. Probably.
And a brag moment because I'm so happy for him. Wizard has been going to an outdoor, covid-safe RC Car racing place. Sunday he raced in the expert class, which is the class with professional racers, for the first time, and he placed really high. I am super jazzed for him!  Go Wizard!
How was your weekend?