Monday, October 19th, 2020
Weekend Roundup
I'm writing this Sunday afternoon while Turbo is outside playing with Wizard. Our weekend has been good so far. Turbo accepted his parents leaving with no problem. He's been totally comfortable and having a great time. Here he is playing in the dirt.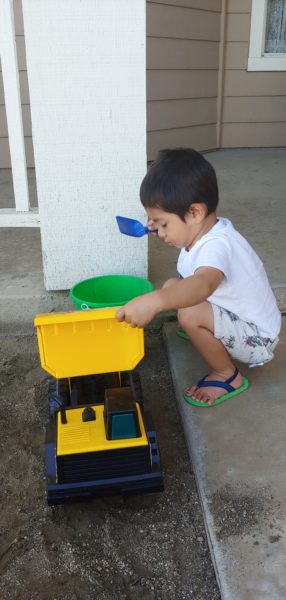 Turbo's grandpa has a bucket of dirt for him to play with

We sent pictures to his parents, and they are chill with it–or pretending to be. Turbo loves baths, so I don't see a problem.
Once we recover on Tuesday then I'll get to work on Eli's opening scene in Primal Magic. I tried on Saturday, but Eli wasn't feeling the scene I designed just for him. So…all is normal in the Wing Slayer Hunter world, LOL!
Today, we'll probably take Turbo home late this afternoon, then come home and crash hard.
How was your weekend?