Monday, December 7th, 2020
Weekend Roundup
It was a weekend. Things happened, stuff got done, other stuff didn't. Here in California, things are bad Covid 19-wise, and chunks of the state are on lockdown. It's hard not to be depressed. I'm very worried about people getting through this nightmare health wise, financially and emotionally.
But I also believe in choosing positive actions over becoming angry and reactive. So to that end, I've done two things:
For myself personally, I spent Sunday hanging out with my grandson. Wizard didn't feel 100%, probably from allergies, but he stayed home as a precaution. Here's a picture of Turbo playing in the dirt while weaving pretty amazing stories for a two year old about building a house (the dump truck and tractors knock on the door…not sure how that happens if the house isn't built yet, but it's Turbo's world

)  Spending time with Turbo (and his parents!) really helped improve my outlook on life.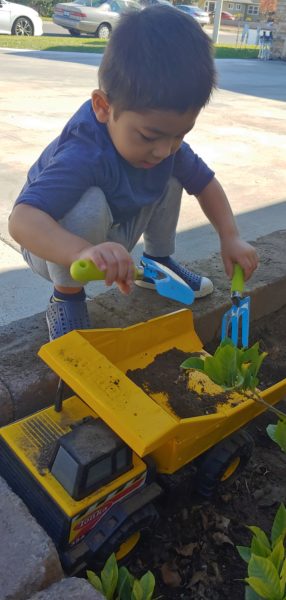 And in an effort to spread some love to the romance community, I'm having an eBook sale of The Savaged Illusions Trilogy. The first book, Savaged Dreams is only 99¢ on the eBook version for a limited time. The eBook versions of books two and three,  Savaged Vows and Savaged Devotion, prices have been slashed to $2.99.
Now my goal is to write PRIMAL MAGIC and FALLEN MAGIC in 2021 to spread more love and magic. That's a huge challenge for me, but I'm going for it!
So that was my weekend, how was yours?