Monday, January 11th, 2021
Weekend Roundup
Maggie and I were so bored this weekend that we went to visit Count Dracula. We first met him around Halloween when he just suddenly turned up.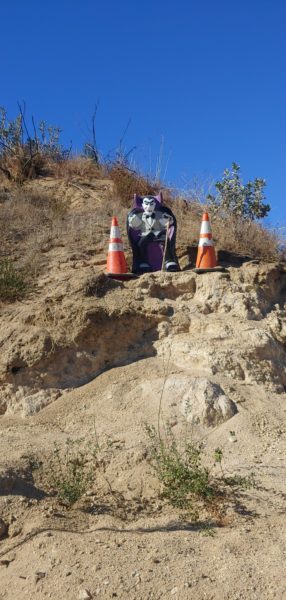 I guess he likes it out there with all the rocks, snakes, lizards and coyotes to count. Yep that was a silly reference to The Count from Sesame Street. By the way, I'm pretty sure The Count's need to count everything was probably OCD. And yes, my thoughts really do jump around a lot lately, LOL
Anyhow, my weekend was boring. Well except for the scene I wrote in my book where my witch performs a cool magic trick using shadows and a crossbow.
What? That's not weird, is it?
Sigh, we all know this book is trying to send me screaming into early retirement. But I'm way too stubborn to give in, so I sat my butt at the computer all freaking weekend, trying to figure out why I can't get it going. I think I finally got it semi sorted yesterday, and it only took something like 253 scenes to get there. My process is a tad inefficient

I am not going to admit how many actual pages I've written and cut. In my defense, I have them all in a cut file, and I plan to use a few of those scenes later so they aren't a total loss.
I bet your weekend was a lot more interesting than mine!