Monday, February 15th, 2021
Weekend Round + Contest!
This is a two-parter! Scroll down if you want to skip to the Weekend Roundup part
The Contest: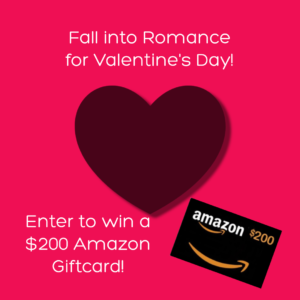 I am so excited to be participating in Cathy Yardley's Fall Into Romance Giveaway! We have a $200 Amazon Giftcard up for grabs and it's super easy to enter! 
The giveaway will run Feb 12-21st. The grand prize winner will be announced February 28th  by email and The Weekly Ink! 
𝗣𝗮𝗿𝘁𝗶𝗰𝗶𝗽𝗮𝘁𝗶𝗻𝗴 𝗔𝘂𝘁𝗵𝗼𝗿𝘀:
Cathy Yardley
Sloane Steele
Cassia Leo
Jen Talty
Sigal Ehrlich
Jillian Liota
Jennifer Lyon
Jennifer Bernard
Teri Wilson
Lea Nolan
Nina Crespo
Renee Rose
Ginny Baird
Michele Arris
Paris Wynters
Cheryl Sloan
JP Roth
Amelia Kingston
HL Packer
M.H.B.
Weekend Round
Hey all! I hope everyone in the grip of the cold snap is safe, warm and stocked up on necessities!
Saturday we got to see Turbo. Always fun! He's a Grandpa's Boy, and I love it. I'm starting to plan a fun birthday cake for him. Can you believe it, he's going to be 3 years old next month!
Sunday we made streak and shrimp, opened a bottle of wine, and I made some chocolate covered graham crackers (Wizard's request) to celebrate Valentine's Day.
Youngest son's birthday is this week. So I called him yesterday to figure out a time to see him (not nailed down yet) and ask him if he wanted me to make cookies or a cake. For that I got an instant answer, "Peanut butter balls!" I've redesigned my peanut butter ball recipes for him to adjust to his preference for non-dairy, and my attempts seem to be working out, LOL. They do tend to come out soft, but they are good if you keep them in the fridge, and I discovered by accident, even better in the freezer. Like chocolate covered peanut better ice cream

I've been dealing with some doctor stuff, and while I like my doctor very much, I don't love tests and running around. But that's minor, and this week is looking much better than last, so I'll happily take it!
How was your Valentine's Day and Weekend? How's the weather in your area?
Don't forget, if you want to enter into the Cathy Yardley's Fall Into Romance Giveaway for a chance to win a $200.00 Amazon Giftcard, click here to enter!