Tuesday, February 16th, 2021
Update on My Promotion Experience
Today I'm sharing promo updates for the release of Savaged Illusions, The Complete Series on February 22nd. I've done a few things to get some preorders for special price of $3.99 before the price goes up to $6.99 after release. I'm going to be brutally honest. In rebuilding my career after a publishing hiatus, and the current market that's over-saturated, I don't have the sales power I once did.
My Preorder Goals: Below are my levels of goal setting for preorders on Amazon because I can see the actual preorders in real time:
Low Goal:  20 to 40 preorders. I got that. Achieved
Medium Goal: 60 preorders. I got that. Achieved
High Goal: 70 preorders. I got that. Achieved
Dream Goal over a 100 preorders. Not Achieved Yet
I have so far topped out at 70 on Amazon so I hit my high goal (so far) but not my dream goal.  I've stopped running ads so I may not get anymore.
So how did I get those 70 preorders on Amazon? I used three methods:
Social Media, I'd estimate I got between 20 to 30 preorders from my newsletter and social media.
Amazon Ads. I tried one of two Amazon Ads, and failed. Mostly because they would NOT let me mention the special or reduced prize. This is frustrating, because why else would most new readers preorder a boxed set they didn't have a prior interest in? It's different if it was a series or something they'd been anticipating, but for this, not being able to advertise the special price killed it.
FB Ads. I had decent success there and got the balance of the preorders from those. I probably about broke even between what I spent and what I sold in preorders.
Without the FB ads, I'd never have done even half the 70 preorders currently listed on Amazon for this boxed set. But this way, the boxed set lands in at least 70 readers Kindles (or other devices) early morning of release day, which puts it right at reader's fingers tips. Some of those will read them soon, and hopefully a few will talk about the book. So my goal with the preorders is that my paid marketing of advertising preorders will translate into some priceless word of mouth publicity from readers. 
FB Ad Tip: Don't do what I did, and keep stopping and restarting, or changing the ads. I learned the hard way that you lose all the likes and comments that push your ad higher in the algorithms and attracts more readers. I was doing it to "test" different ad graphics and targeted audiences, and eventually figured out that was a really bad idea. So set an ad and let it run.
Other Marketing-Promo I'm Doing:
Blog Tour. I hired InkSlinger PR to schedule a one-week blog tour for release week (next week). They scheduled 15 blogs over 5 days, and so far, they've fulfilled what they promised. So color me happy with them at this point.
Buy Links in Published Books, I had my formatter update some reader letters and all the buy links in all six of my related books (even distantly related, like the Plus One Chronicles Series that has some crossover characters). This required me to get that all organized and then re-upload all those book files to all the vendors. It was a time suck, plus the cost as I pay for formatting, but those buy links are gold. If someone finishes a book of yours and loves it, that's the time for them to have a link to click on.
Newsletter. I'll send out a newsletter announcing the release. They've known about it for a while, but I always try to communicate with my newsletter subscribers. They cared enough to subscribe, and that means a lot to me. I mean that.
Social Media. I'll promote some on social media.
Other Things in the Works. I'm always trying one or two things here and there. For instance, I submitted Savaged Dreams, the first book in the Savaged Illusions Series for a Bookbub Feature. I've never managed to get one for my self-published book–even the bestsellers, but I know one thing for sure: If I don't try, then I definitely won't get one. These are pricy though, and they don't have the same success these days as they did a few years ago.
I'll let you all know how it all goes. So that's my few updates/tips. Anything you'd like to share?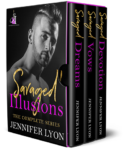 Check out the Special Priced Preorder for Savaged Illusions, The Boxed Set here