Monday, September 6th, 2021
Happy Labor Day + Weekend Roundup
To all those celebrating in the U.S. Happy Labor Day! I hope all who have the day off enjoy it with those you love. Today, CPA Boy, Special K and Turbo are coming over to swim. Youngest will come by too. Middle is camping with his wife and friends.
My weekend was good. Saturday I went to Special Ks and she drove to my niece's bridal shower. That was lovely. My niece is a sweet, smart and accomplished young woman marrying a wonderful man. I'm looking forward to their wedding in November. I also really appreciate Special K "taking" me so I didn't have to navigate to an area I'm unfamiliar with. I'm perfectly capable of getting myself where ever I need to go, but I was happy I didn't need to do it

Plus I love being able to hang out with Special K.
I also got to see Turbo for a few minutes and he carefully showed me every detail of the Lego police car he built with his dad. I don't know why this made me happy, it just did. It's the small moments sometimes. Uncaring of my heels and dress, I crouched down to examine this very important Lego police car because my grandson is very proud of it.  And of course, we had to see how fast it goes and discuss how many bad guys the police car can catch. FYI the answer is–all the bad guys

Sunday Wizard was off racing with his friends, so I did errands, and tried making a fondant pig. Um…well…okay, I tried and that counts right?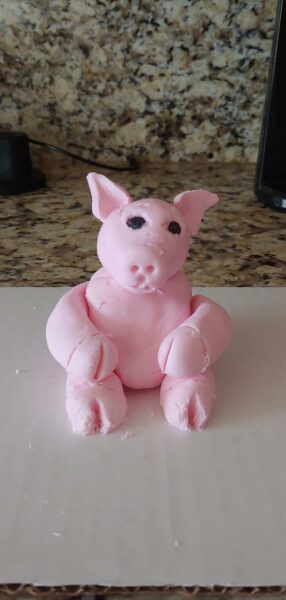 It's okay to laugh! I'm learning. One thing I discovered is my cheap plastic fondant tools suck, LOL. That's okay, I planned to buy good ones if I enjoy it. Each brand of fondant is different, and I'm learning how to get the consistency right, how to add Tylose powder so it will stiff and dry firm, and how long I have to form things before it begins to dry and crack. Plus I've never ever made 3D figures so there's that. I'll get better.
I also made the dough and formed chocolate peanut butter stuffed chocolate chip cookie and froze the dough balls. I'll bake those in the morning. It may sound weird, but they bake better frozen.
So that was my weekend, how was yours?