Monday, December 6th, 2021
Weekend Round
So I learned what NOT to do when I'm stressed–go to my little cake store. Whoa! So I was desperately trying to reach the pharmacy in the ongoing battle to get my Humira. The phones were down. They could answer, but couldn't hear me, and would read off this canned response about trouble with the phone lines and to try back later. I must have tried a dozen times until I gave up for a while. I was so frustrated, I had to get out of the house and went to the cake store.
$105.00 dollars later, I came home.
Wizard hasn't stopped laughing.  He finds this hilarious because his hobby is expensive so now he can tease me. And he is

Plus he usually is the once "forced" to eat the cakes and treats I make, so it's a win-win for him.
Anyhow, in my usual way of making everything harder than it has to be, I decided I wanted to make a white chocolate raspberry cake. This cake has raspberry cake/pie filling swirled in it and white chocolate chips added to the batter which makes it terrible for carving.
I did it anyway

Cause, you know, who's going to stop me??? This was all just for fun. I got to test the recipe (awesome!) and make, then permanently maim, a bear by forgetting to reattach the ear I cut off to reshape for a better fit the next morning.  I didn't remember the ear until I was all finished with the entire cake and found the cake-ear sitting in my fridge.
Oops, LOL! I messed up a lot for this guy, but he was still a joy to make. Here's his pic: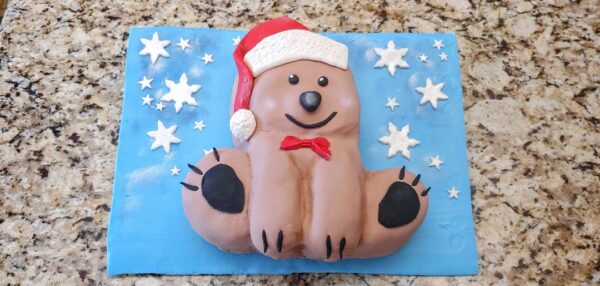 Otherwise, Youngest son came over Saturday to help Wizard put up the outdoor Christmas lights so we have now a little bit of Christmas spirit. He hung out for a few hours making Maggie one happy puppy.
Today Wizard and I are really, truly, for sure….probably….putting up the Christmas tree

But I have most of my Christmas shopping done, so there's that. Oh, and I'm going to my doctor's office to see if I can get this mess with my Humira sorted out in person. The doctor's office is convinced the authorization is for one year, but I finally got through to the pharmacy late Friday and they emailed me their copy of the authorization–it's for six month. This miscommunication will either get cleared up or…
I'll may end up the proud owner of an entire cake store.
Wish me luck!
How was your weekend?