Wednesday, December 8th, 2021
Hump Day Chatter
**Sorry this is late!** Here's what I don't understand, but maybe one of you know this. My scheduled post has been working fine for weeks. I set this post up as usual last night BEFORE a scheduled power outage that occurred overnight. Concurrently we also had an unplanned internet outage that was a separate event from the power outage. But I assume when I schedule a blog is goes to the host server and sits there until time to post, so power and internet outages on my end shouldn't affect it . Am I wrong? Does anyone know? Oh and by the way, I checked and the post was scheduled correctly.
Okay onto my original post:
It's weird not writing. Telling stories has been such a dominant part of my life and identity for decades. But the holidays are keeping me busy and distracted so I'm not really dwelling on it. I expect it to become more of an issue next year when life returns to more mundane routines.
In the meantime, the house is decorated, most of the presents are bought and I'm planning a small amount of baking. I've thought about Christmas cards, but I can't seem to pull that one thing together. Wizard and I searched for a picture of the two of us together this year to order cards and can't find a single one. We do have tons of pictures of Turbo and Maggie, LOL. In any case, I should do them. I love getting them

Yesterday, I did my first attempt at chocolate Santa sucker. It's, um, a work in progress. If I can't get find a way to get the colors neater, I can always do them in solid chocolate. Mostly I'm doing it for Turbo, who won't really care. It's probably be fine with my sloppy efforts  (Sorry for the slightly blurry picture)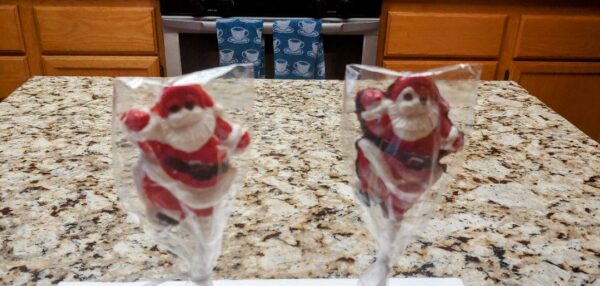 So how's your Wednesday going?