Monday, April 25th, 2022
Weekend Roundup
Aside from computer problems, the weekend was good.
Friday, I went to my doctor and he believes it's not my cervical spine causing the pain, but a compressed nerve at neck level on my left side. It was amazing the way he isolated the pain points. Plus I have garden variety tendonitis in my left elbow. All of it is from overworked muscles

But the doctor wants me to continue with yoga, and as long as I don't feel pain while doing it, I won't cause any more damage. So he did a shot in my left elbow, then two anti- imflammatory shots, and he's sending me to physcial therapy to see if we can release that nerve. For now, the shots are helping some of the pain. I'm relieved that it doesn't appear to be my spine, and am very willing ot do the work. The shots have helped some of my pain and I'm grateful for that.
Saturday was my mother-in law's-brithday. My two sister-in-laws did the bulk of the work and made it beautiful for her. Lovely table setting out on the patio, gorgeous flowers and catered food. All I really brought was the cake. But my mother-in-law seemed to love it and I was thrilled.
I really wish I could show you the cake. But my computer is cranky as a wet cat. My bottom tool bar that allows me to run multiple windows, and control other key elements, is frozen. I have yet to find a solution. I also just discovered that I can't move files from my cloud to my harddrive or even download and save a picture…grrrrr! I've tired relauching programs (windows explorer specificially) and other troubleshooting, but so far no luck. The old computer is getting contrary and mean. I'm taking it persoanlly, LOL!
Sunday, Maggie and I took a long walk, did yoga, and then Youngest came over. Maggie got to go in Youngest's Jeep to go see our house in the framing stage. She showed him all her favorate spots, then she got back in the car and curled up on his sweatshirt. I laughed and thankfully, Yougest doesn't care. Wizard missed out since he was gone racing in RC cars and hanging out with his friends.
OK I'm inserting the cake picture using my phone: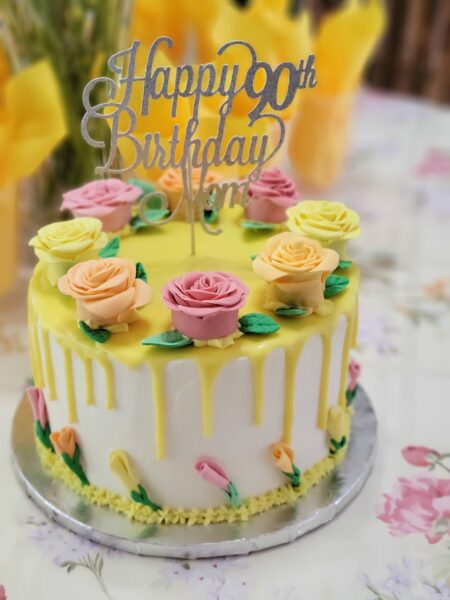 How was your weekend?