Wednesday, October 5th, 2022
Maggie's New Favorite Spot
Maggie has a new favorite spot!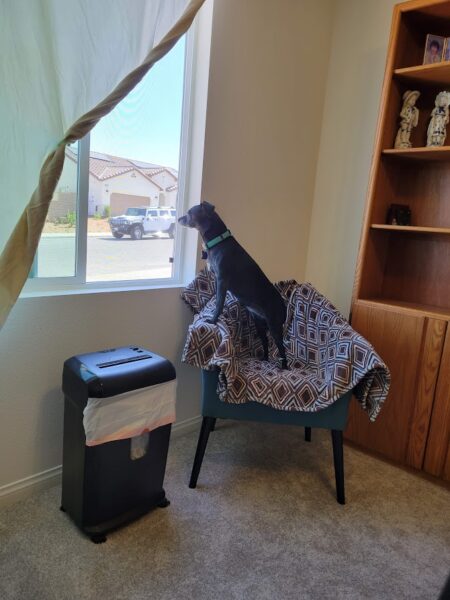 This is her chair in the office. Ignore the clipped back sheet we're using to cover the window — we've ordered window blinds and we should get them sometime before the month is over I hope. I'll get around to organizing the bookshelves to the right of her soon (or not, LOLOL!) As soon as we cleared a space to put her chair in front of the window to the whole wide world, she was thrilled.
Well, at least she was until last night when she she saw a dog staring back at her and growled. I laughed so hard, she glared at me, got down and stalked into the other room just like a cat would. That only made me laugh harder (my kids are right, I am mean!) Um, Maggie, that's YOU WERE GROWLING AT YOUR REFECTION IN THE WINDOW!!! What makes it even funnier is so far, she's not barking or growling at anyone going by the window. Apparently she only barks at her own reflection.
Which I guess I kind of understand after all: Sometimes first thing in the morning, I growl at my reflection in the mirror too

Maggie got into some trouble when she found a bag of trash one night. We don't have the trash cans yet, so we foolishly set the bagged trash by the front gate. Seriously, Maggie rarely gets into anything she's not supposed to, so we didn't think about it as we should have. Anyhow, Maggie discovered it and was having a blast licking discarded meat packaging. UGH! Fortunately I realized really quickly that she'd been out of my sight too long, went out to check and caught her in the act. She saw me, ran half way to me then rolled over on her back in surrender. She's so hard to be mad at! But I wasn't really that upset about the mess, I was way more worried she'd get sick. Almost anything off her diet makes her sick. But somehow, raw meat juice that had been in the trash for a day didn't bother her. Go figure.
So that's Maggie's adventures so far.
How's your week going?
P.S. Happy Birthday to my favorite sister, Biker Witch!