Monday, November 28th, 2022
Weekend Roundup
I'm back! It feels like 9 weeks since I've been here!
Thanksgiving went well. It was the usual chaos when all my kids are together, but that's how holidays always go with us

Unfortunately, Biker Witch and her Biker Hubby couldn't be there, but we all understood. All I can say though is these days, I couldn't do it without all the help from my daughters-in-law! My middle daughter-in-law is an amazing cook so when she starts cooking, we get out of her way! And all the girls brought a lot of the food, which made it really easy on me. I made the turkey, potatoes and had three kinds of cookies in the freezer that I thawed out for various dietary needs. I had things on hand like whipped cream and ice cream for the pies and the girls pretty much did all the rest.
Friday we went to the car show which was in Los Angeles with CPA Boy, Special K and Turbo. Special K and Wizard both suffer from eternal car fever, so this was for them

We did, however, run into Officer Turbo: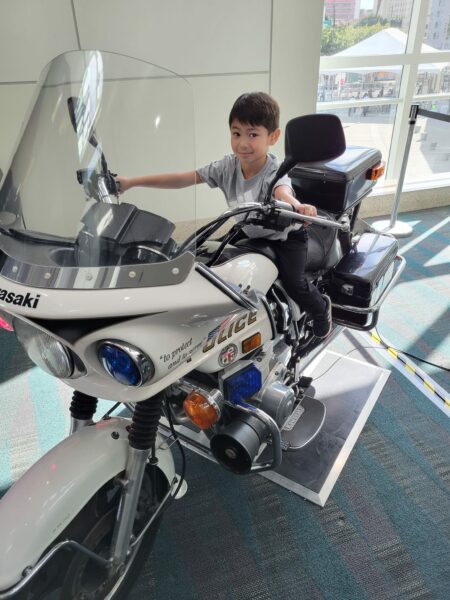 They were letting kids sit on a one of their fleet of motorcycles. And they gave him a badge sticker — he was thrilled.
Saturday I tried to rest, which somehow included two walks because I'm so good at resting, LOL! My side was annoying me, but it was somewhat better yesterday.
Sunday…frustrating. My chairs came, YAY! (right after Thanksgiving, LOL). I checked everything but whether they reclined. So of course, I can't get them to recline. It's probably just that they are tight because they are pushback manual recliners. Wizard will look at them when he gets home (I'm writing thoi Sunday afternoon when he's at a radio control car race). Otherwise, I love the pattern and I think we'll be happy. If we can't bet them to recline, the store will send someone out to check them.
Then yesterday my microwave shorted out, and the lighter on my cooktop stopped working (likely shorted too). I need to contact the housing people today and push to get that fixed ASAP. I use my microwave and stove a lot, so I'm sort of at a loss without them.
Today, we are on standby at the vet's office — they are going to try to work Maggie in for a swollen lymph node. It's one of those things that could be nothing, could be something like a bad or infected tooth that I just can't see, or could be more concerning. Overall, Maggie is eating and acting normal which is good.
But that's enough of me, how was your Thanksgiving and weekend?