Wednesday, November 30th, 2022
Happy Wednesday!
Yesterday, I was at loose ends and had something on my mind, so Maggie and I went for a walk. We followed a road until it literally dropped off into a wash for rain runoff: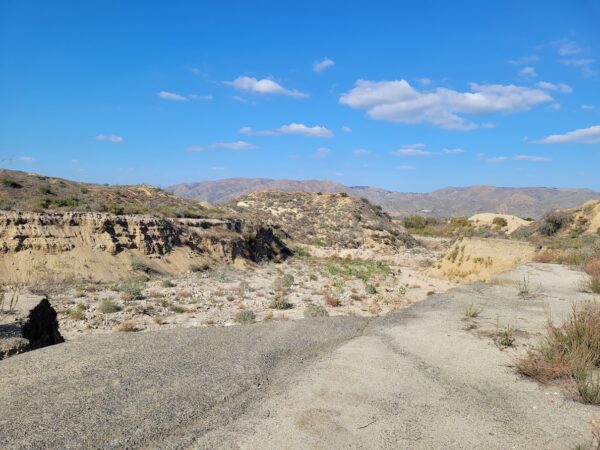 It's amazing what the force of water can do! It's a lot steeper looking in person, and I never get too close to the edge (or let Maggie get close). What's funny was years ago a housing track swore that the was going road would go through to the freeway that is on the other side of some of the land you see here, plus there's a rock quarry back there. We laughed at them. Sure it was possible, but unless that housing track was going to pay for it — including buying the rock quarry, it was highly unlikely. It would take years just to get the funding  and do all the studies for that. I don't remember who told them that, but they were trying to sell it to us as fact. We still laugh about that. It's been about 27 years since then, and I feel pretty confident that we were right.
And this one is Maggie thinking: Yesterday you took me to the vet as an emergency, and today you take me out for a second walk that turned into a mile long hike?  Humans are not logical! LOLOL!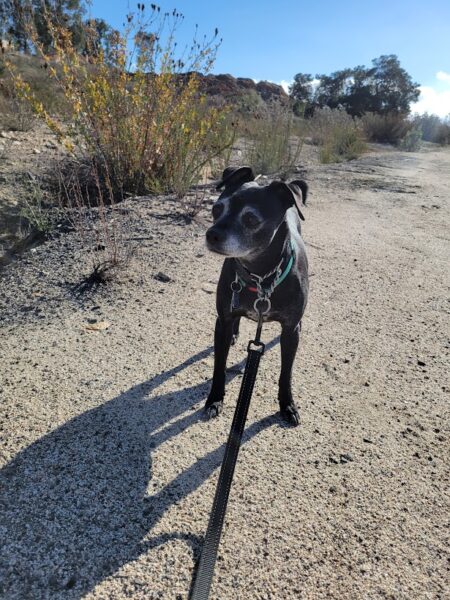 She has a lot of gray these days, but she's still beautiful to me! She also clearly feels fine, she was excited to go for the walk. By the way, if anyone recognizes the martingale collar I use, that is for her safety. We are in an area that could be dangerous, and if she somehow slipped her flat collar, it could cost her her life. The collar never bothers her. If fact, when I pick it up to leash her, she gets excited.
How's your day going?