Tuesday, December 13th, 2022
Maggie's Takes Over the Blog Today
Oh hi, there!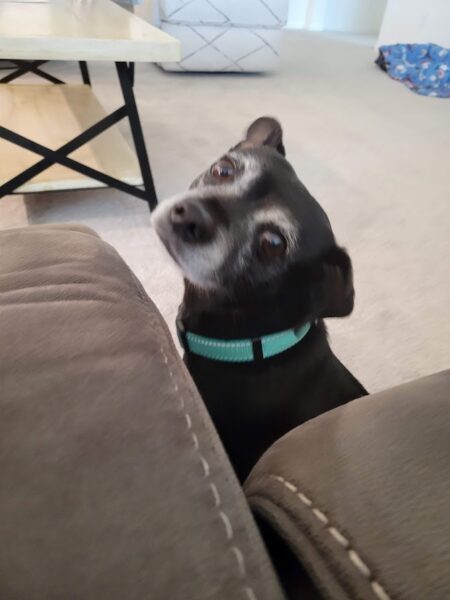 It's me, Maggie. Guys I have to ask you all…is my mom crazy? Every year she tries to do too much in too short a time, and I'm left dealing with her stress. I have to do all kinds of things like, clean up the kitchen floor while she bakes and talks to herself, make her stop and go for walks, sit on the couch and let her pet me, or remind her to give me treats. But seriously…how can she do this to herself every year and not learn?
Also, I have to tell you a story. So my mom has taught me not to run out doors to the outside unless I'm given permission. I follow the rule most of the time, although sometimes I might cheat a little bit and pretend I thought she gave me permission. So yesterday mom and Wizard were bringing in groceries, and I stood inside the garage door supervising.
Then I saw another dog walking by my house. I looked at my mom to see if I was allowed to go see him, but she was too busy looking at the other dog. I want to go sooooo bad, but I waited.
Then my mom turned and her eyes got all big and she said the word I didn't want to hear. "Stay." That was bad enough, but then she looked at Wizard and said, "I forgot the door was open! Maggie could have run out!"
She forgot about me! ME!!
So you know what I did??? I stepped out and stood on the rug just outside the door. And I waited until my mom turned again and saw me. Our eyes met…
And then I went back inside the house

Because I'm mostly a good girl, but I had to show her that I could be a not-so-good-girl if she forgets about me again. Sometimes we just have to remind our people who is really important, am I right?
So guys, my mom told me I had to take an official Christmas photo. I agreed to sit for one and only one. Here it is: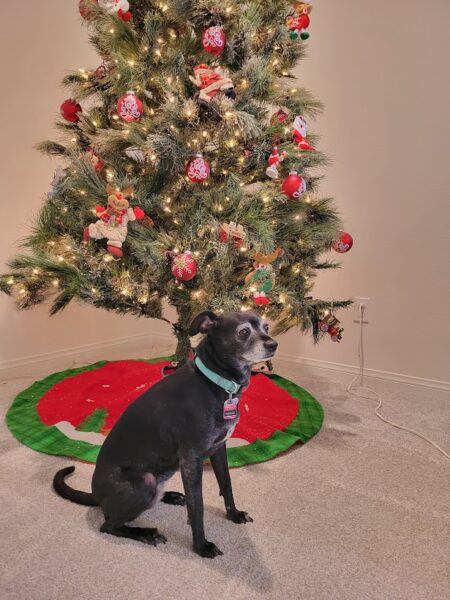 My mom sighed but is it my fault that's the best shot she could get? I'm pretty sure it's the photographers fault. I gave her the one shot, and this is what she took.
Happy Wednesday Everyone!