Monday, December 19th, 2022
Late Weekend Roundup
Sorry I'm late, the entire weekend passed in a blur and Monday showed up before I wasn't ready

But I'm here now!
So Friday afternoon we headed out to Turbo's preschool play. We left an hour and half before the show to give ourselves plenty of time, and got stuck in traffic from a bad accident. However frustrating it was for us, it was a lot worse for the occupants of the cars, and their loved ones. Anyhow, we arrived on time and the play was too cute! And lasted maybe 30 minutes with four different "classes" of age groups. Then we went to dinner with Turbo and his parents. It was truly nice, especially since it was Grandma's night! Turbo hugged me, kissed me and chatted to me nonstop the entire evening. Poor Grandpa was stuck on the other side of me and got the left over affection and chatter, LOLOL.
Saturday I did more baking — I think I made 7 double batches of cookies? I think the faves I've heard so for have been the pistachio cookies with brown butter icing, thumbprint cookies with raspberry or lemon filling, lemon cookies and the chocolate mocha peppermint. And then I made the cake — it's my first cake in something like 9 months or maybe even a year. It took a while it get the hang of it again, and it came out okay but not as good as I could have done with more time. But for better or worse here's a pic: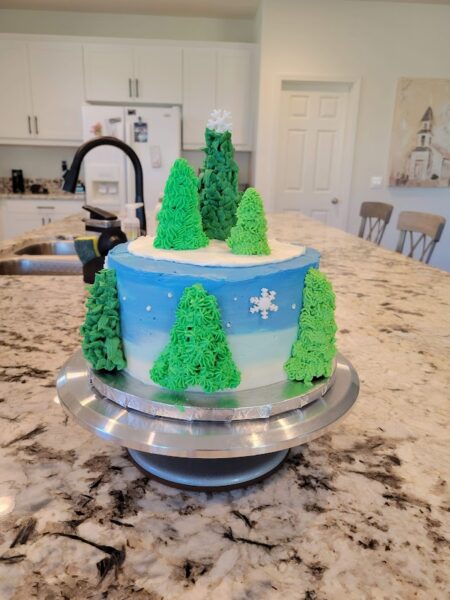 Sunday we had the family party. There were present mix ups that were hilarious — everyone laughed because we are all trying to juggle too many things and sometime the wrong present is wrapped for the wrong person. Turbo had a great time and showed so very nice manners and graciousness. I was impressed.
Today I'm trying to regroup mentally and physically for this next week.
How was your weekend?