Wednesday, December 21st, 2022
Wednesday This and That
Christmas is just a few days away!  I hope everyone is ready or almost ready. For us, it's a busier week than we'd anticipated, but it'll be manageable.  But I am a little distracted and I was thinking so hard about various things yesterday the I ended up cleaning the shower twice. I may have called myself an idiot in very creative ways when I realized what I was doing! I mean it's not a chore I enjoy doing once…so I deserved the self-name-calling.
I'm still mad about it, LOLOL!!
But aside from my masochistic tendencies, I started listening to a new book to get through the dreaded cleaning and thought you all might be amused given my rather eclectic choices lately. The title is "The Second Life if Mirielle West" by Amanda Skenandore, and it's a historical fiction about a socialite in California in the 1920's who contracts leprosy and is sent to a colony run by nuns.  Is that eclectic enough

?? I truly just stumbled onto the books when I looked through a sale at Audible and it caught my eye. The heroine is a spoiled, vain woman who finds herself living in a leper colony and having to readjust — so at it's core, it's a fish out of water story. And it's not told in a grim way, I'm enjoying it more than I would have believed.
Also Maggie wants to show you all her brand new toy! It was a gift from a friend of hers (my daughter-in-law's mom) and Maggie loves it. She run around with it, throws and shakes it. I tried to get a picture of that, but she was shaking it so hard, it came out a gray blur in the pics. I'm glad she loves it, but I can't seem to take my eyes off that long candy cane striped…nose

I guess its a long nose sawshark? Out of the water, he looks more comical than scary!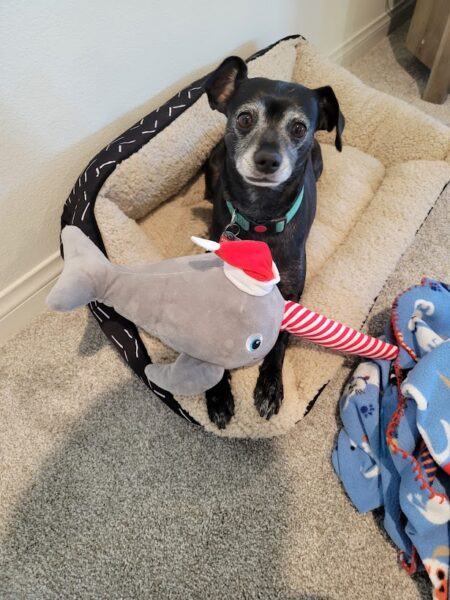 Happy Wednesday!