Monday, December 26th, 2022
Late Weekend and Holiday Roundup!
It was a wild and fun holiday for us! But we had 80 degree weather unlike so many of you in other parts of the country. I hope those of you in the cold areas are all well, warm and had a great celebration too! That cold was scary.
After two weeks of going nonstop, I'm so wiped out I'm barely functioning today. Anyone else feel like that or is it just me? I was going so much, I lost weight despite all the baking I did, LOLOL. I'm sure that will change pretty quickly as life returns to a more normal pace.
Let's see: Friday middle son and his wife came out and brought us a Christmas/Housewarming gift that stunned us both. We were so shocked, that both of us had to mentally shake ourselves in order to thank them

They were so very sweet and thoughtful and way too generous. That was a great day just seeing them. Sometimes, it's really nice to see the kids with their spouses separately. We really enjoyed the day.
Saturday I had a few small errands, then youngest came over, and after that, I made a small cake just for me and Turbo. We shared it with the others, but Turbo and I are the chocolate fans

It was a one bowl chocolate cake, with chocolate swiss meringue icing. Then just for fun I did a quick fondant  snowman. I'll post a pic of the cake, but trust me, I know the icing job is sloppy both neither Turbo or I cared! And he even ate some of the fondant snowman.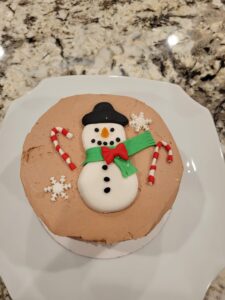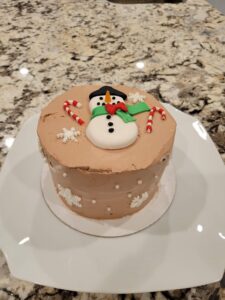 Sunday — Christmas morning, Wizard and I opened gifts. He got hobby stuff and clothes. I got a vacuum mop for the floors (which I REALLY wanted) and my dream coffeemaker! It's a Ninja Duelbrew Pro and I love it so much! Youngest has one and I've wanted it for months but could not bring myself to spend that much money on a coffeemaker.
Maggie got a toy and a special treat. But truly, her happiest time is just have people over, and she and Turbo are buddies. He has a snoopy robe with ears and a tail that he put that on after his bath. Maggie found that super interesting. I mean her ruff was up down her back, but it was from excitement and I guess curiosity. If he'd taken it off, she'd have probably stolen it

How was your weekend and holiday?