Monday, January 9th, 2023
Weekend Roundup
The whining for Wizard is over — his TV is on the wall and fulfilling all his dreams

Middle, his wife, and their two amazing dogs came over. Maggie was overjoyed. It's her very first house visit by other dogs. And then…just to make her world complete, Youngest came over!
Maggie thought the surprises were over. But nope, daughter-in-law and I took all the dogs on a hike. This daughter-in-law is the only person I've been able to get to do this with me. We went as far back into the hills as the trails went. All told, daughter-in-law said it was more than 2 and a 1/2 miles in total. It was so pretty and great for the dogs. Maggie had no problem keeping up with the bigger dogs, even though we'd done almost a mile walk earlier that morning. The cool weather really helped too.
I didn't take any pictures, in fact, I'd forgotten my phone, but daughter-in-law had hers. Plus I'd shown one of my son the trail we were going on, so they knew where we'd be. I was so happy to have a hiking partner, and to have the two bigger dogs with us to discourage any animals seeing Maggie as prey.
But here's the hilarious part — these two dogs are the sweetest, most loving dogs. Chances are, they'd try to make friends with a coyote

Here's a pic my son took of me with the dogs: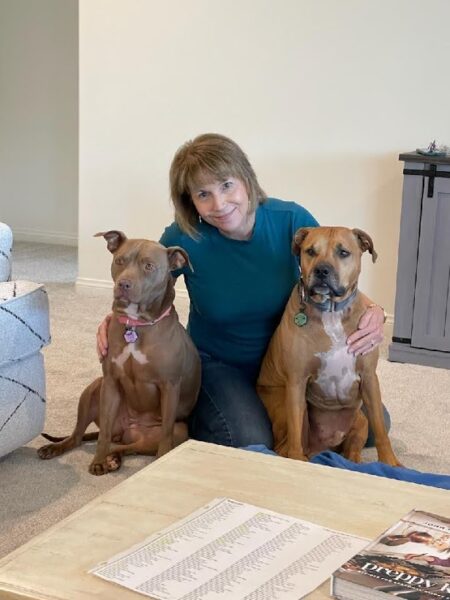 Hazel is on the left, and Jett on the right. I was petting Hazel when Jett got in on the action, LOL. That's why my son took the pic. They are big, powerful dogs  but they are absolute lovers. Hazel is whip smart and likes to problem solve — like getting Maggie to trust her. Her patience is quite amazing. By the time they left, she was getting Maggie to trust her more and more. Jett was born brimming with confidence and always looking for the party. If you look at him in the pic, he's trying to sit in my lap. He has no idea of his own size or strength. These dogs go camping and hiking all the time, and pretty much believe (like Maggie) that everyone — person or dog — is their friend. I've never seen the mean side of either of them.
Middle, Youngest and Wizard hung the TV while we were out on the hike. I was amazed how fast they did it! It's been fun seeing the family room take shape. It's going to be a work in progress for a long time, but that's okay.
Next weekend, if it doesn't rain, we are going to Monster Jam with Turbo and his parents. That should be so fun! Oldest son and daughter-in-law insist that it's grandparents day and grandparents get in free. This is an ongoing discussion

But so far, Wizard and I are not winning this debate, even though we can't any evidence of it being "grandparents get in free day." It's an ongoing joke now.
Today, after a long delay, they are supposed to start on our retaining walls and concrete. Fingers crossed that nothing else gets in the way. All that is going to be an even bigger work in progress, but getting this part done will make the outside spaces more functional. The pretty parts of things like plants, turf and pavers will come later…probably much later 

How was your weekend?