Thursday, March 9th, 2023
Friday Five
TGIF! Time to share five random things about our week!
I have not made sourdough bread yet, but I'll introduce you to my sourdough starter, Ryn-N. He's really excited for his debut. I even had to move him to a clean jar and put a name tag on him. The first picture is Rye-N right after I "fed" him. The blue rubber band marks the level he's at then. The second pic is him doubling in size after 6 hours, which means he's a very active sourdough starter!
This is a gluten free bread I made yesterday. It was made with my expensive flour from Italy. I should have browned it more under the broiler, but I wasn't sure the pan I was using could handle the broiler. The bread came out good, but I think it'll make an even better pizza dough! I took this before I cut it because the sun was going down and I was losing natural light.
Wizard has been working on the sprinkler system for the hill. So the builder put one in, but it's not adequate. Wizard took it out and was putting a better one in with four values so that we have options in the future. This project turned into a challenge for a lot of reasons, but today he got that part done. I am so proud of him! With all the frustrations and rain delays, he was patient, and he willing to walk away for the day when necessary. We have reached a age where projects we want to do take more planning, time and patience (and a few more sore muscles!) to accomplish but we're doing them! Well he this part, he did, I just ran to Home Depot a few times to pick up parts But next week I get to move rock around so yay me!
This week I had what I hope was my final scan. This was to take a closer look at my gallbladder function and it looks good (my gallbladder is getting pretty arrogant at how many tests she's aced, LOL). That great news. I'm hoping the doctor will agree with me that we can continue to try to manage this with diet and no more labs, tests or scans for awhile. I mean, if we keep this up, I'm going to start glowing in the dark from the various doses of radiation! But seriously, I'm not complaining, I was pretty sick and they were all taking my symptoms seriously. I'm very grateful as that is not always the case for everyone. I have to add that if sucky digestion and a restricted diet is the biggest problem I have, I'd say I'm pretty danged lucky. At least what I eat is something I have full control over, and I have time in my life these days to deal with that. Not everyone is that fortunate and I'm vividly aware of that. I am feeling better, stopped losing unintentional weight and have more energy. That's progress.
It's supposed to rain today. It's projected to be very heavy in other parts of the state, but we're not expecting too much here. There's what appears to be a bigger event coming next week, but we'll see as that can change. Rain is a good thing, I just hope it's not too much in the areas already dealing with too much rain or snow.
Bonus! Maggie wants to say hi! Don't let her all her gray fool you, this dog can fly when she runs and jumps onto the hill. It looks like she floats through the air! I wish I could catch it on video! She might be getting older, but she can still got some moves! (She made me say that!)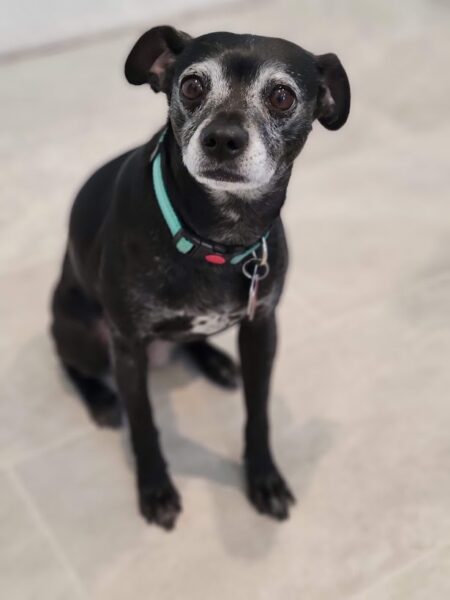 That's my 5 plus a Maggie bonus. Now I'd love to hear yours! I hope everyone has a fun and safe weekend!