Wednesday, June 21st, 2023
Wednesday: The Good and the Bad
I'm going to do this backward — first the bad.
Here's a pic of Maggie in one of her favorite spots 12 days after her hernia surgery: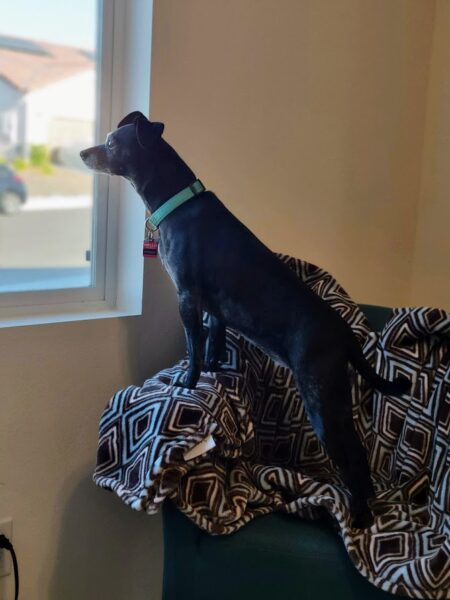 I took this pic right before I wrote this blog. She looks good and acts normal, so I took her on a normal walk yesterday. When we got home, she threw up a little. I had an instant attack of major guilt. What the heck was I thinking???? Did I take her too far, push her too hard? But she was absolutely fine the rest of the day. And she has a history of occassionally throwing up for no reason anyone can find, so who knows? Wizard and I have been distracted with very serious worry about someone else we love, but that's no excuse for me to be careless with Maggie. Her health and recovery are important too, so I'm going to keep her walks limited for another week or so.
Now for my good. My adult nephew stopped by unexpectedly. That was a joy! He was working in the area so he just popped in. I was in the middle of cleaning bathrooms and looked awful in my tank top and rubber gloves, LOL! But he didn't seem to care, so I didn't care either. He really brightened our day! Maggie met him once before, and clearly remembered him. She was as happy as we were to see him.
So that's my good and bad, what's yours?