Monday, July 17th, 2023
Weekend Roundup
Before I get to the weekend, just to let everyone know, I'm aware of some issues with the blog. I'm trying to address, but my life is a little complicated and my web designer is in Germany. I will try to get it sorted soon-ish, and I'm truly sorry if it's frustrating anyone. It seems to target the comment section the most.
Okay so the weekend. I know something happened Friday, but I can't remember what it was

Saturday morning, we had the last part of the rain gutters installed. It's a long and dumb story about why we didn't have that section done when the rest were installed, but it's all done now.
I pulled out some cake layers from my freezer and played with that this weekend. I had a plan and headed to the cake stores, but I couldn't get what I wanted and had to change the design on the fly. Most of it went fine. However, the one thing that made me crazy was trying to make the chocolate drip, which is just a chocolate ganache. This is not hard, but each time I tried, the chocolate seized or turned grainy. I was getting water in it somewhere or heating the heavy cream too high. I finally threw up my hands and used chocolate melts which is why the drip looks chunky instead of flowy. By then I didn't care. Drips is one of the things I'm usually decent at, so I know I was just tired. I also was using what I had in the freezer, so I couldn't build the cake tall enough, but again, it was just for fun. Here's a pic: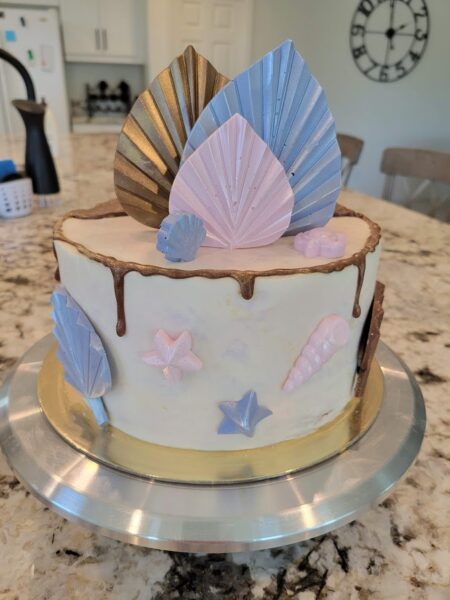 My original concept was sugar flowers in the colors of sunset (oranges, reds and yellows) cascading down a tall cake. This isn't even close! No matter, I'm happy to get the practice. Most important was doing something creative to take my mind off other stuff. This week if I have time, I may try making some flowers out of gum paste. I have a lot to learn with that, though.
Tomorrow Wizard is having an eye procedure done. I hope to post on Wednesday, but the sheer logistics of the day is complicated and I may be late posting. We are boarding Maggie so we don't have to worry about her, plus she'll get a much needed bath.
That's my weekend, how was yours?